The Politics of Climate Change, 2nd Edition
ISBN: 978-0-7456-5515-4
Paperback
272 pages
October 2011, Polity
US $19.95

Add to Cart
This price is valid for United States. Change location to view local pricing and availability.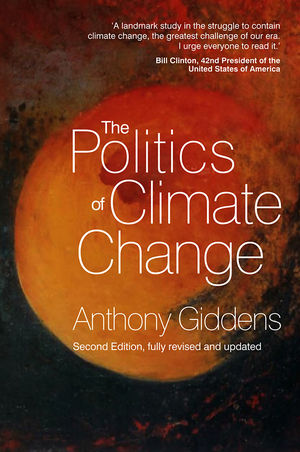 "Remarkable for its range and scope. Concise, yet comprehensive, it examines the climate problem from a variety of standpoints; historical, scientific, financial and geo-political. Always calm and reasonable in tone, Giddens resists the urge to scapegoat and condemn the most offending countries and industries."
Irish Examiner
"This timely updated reissue of Anthony Giddens' ground breaking book reminds us that the problems he discusses have not gone away."
Diplomat
Acclaim for the first edition:
"One of those rare seminal works that will likely influence policy-makers over the next several generations."
Journal of World Energy Law and Business
"Giddens' is a simple message, argued with great clarity and power, that brings a new dimension to the debate."
Book of the week in the Times Higher Education
"A very useful introduction to the issues, and crucially shifts the focus away from targets and environmentalist frames towards the substance of economic and energy security interests, technology, state intervention and the limitations of the formal international climate negotiations."
Public Policy Research
"As well as providing a useful summary of a number of current debates in climate change policy - from the robustness of carbon markets and green taxes through to the role of government in fostering new technological solutions - Giddens makes a powerful contribution to the emerging debate."
Progress
"The Politics of Climate Change stands out in the crowded terrain of climate change publications by placing politics - rather than science or economics - at the center of the analysis ... there is much to recommend this book. It is up to date, with discussions of the recent global financial crisis and the change of leadership in the US. It takes a multilevel governance perspective on climate change governance and attempts to think about how the various components relate to one another. The book is accessible for the nonspecialist, making it appropriate for use in the classroom."
Environment and Planning C
"How do you create, maintain and renew majorities that encourage people, organisations and institutions to behave responsibly and well, especially when they have become accustomed to behaving irresponsibly and badly? This key question ... underlies everything in Anthony Giddens' important new book, The Politics of Climate Change. Giddens is clear that politicians make things worse by the tactic - much used by Brown in the economic field too - of simultaneously dramatising the threat and then pretending to have the unique measure of it, as the G20 may show."
Martin Kettle, The Guardian
"In challenging the standard criteria used by policy-makers to think about climate change, and by offering an alternative set, Giddens shows how a real national and European debate can finally occupy the political foreground."
Times of Malta
"The prospect of disruptive climate change should be high on the international agenda: it raises issues of politics, economics and equity that are even more complex than the science. This balanced and comprehensive assessment by a distinguished author should be widely read by politicians and policymakers."
Martin Rees, President of the Royal Society and Master of Trinity College, Cambridge
"An incisive and highly original contribution."
Ulrich Beck, University of Munich