On Education: Conversations with Riccardo Mazzeo
ISBN: 978-0-7456-6155-1
Hardcover
100 pages
June 2012, Polity
US $49.95

Add to Cart
This price is valid for United States. Change location to view local pricing and availability.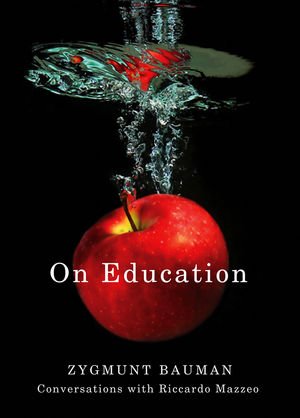 1. The crisis of contemporary education between mixophilia and mixophobia
2. José Saramago:"There are ways of being happy that are simply hateful"
3. Gregory Bateson and his third level of education
4. From ballistic missiles to the smart ones: from closure of mind to "permanent revolution"
5. The hundred years oak trees have grown from ridiculously minute acorns
6. Looking for a genuine "cultural revolution"
7. Depravation is the cleverest strategy of deprivation
8. It takes but a few minutes and a couple of signatures to destroy what took thousands of brains and twice as many hands and lots of years to build
9. The youth as a disposal tip for the excesses of consumer industry
10. The effort to improve mutual understanding is a prolific source of human creativity
11. The unemployed may always play lotto, don't they?
12. Disability, abnormality and minority as a political problem: the examples by Wells and Saramago
13. Being indignant is not enough for swarm-like ephemeral political groupings
14. The riots of defective consumers and the never-ending minefields
15. Richard Sennett: "Informal, open-ended cooperation is how best to experience difference"
16. From the Lacanian "discourse of the capitalist" to the Baumanian "discourse of consumerism"
17. Zizek and Morin: does religion necessarily have a monotheistic nature?
18. If even Proust's pétite madeleine is exploited as the last resort for consumerism
19. On fuels, sparks and fires
20. On globalization coming of age