Photoshop 5 For Windows For Dummies
ISBN: 978-0-7645-0392-4
432 pages
June 1998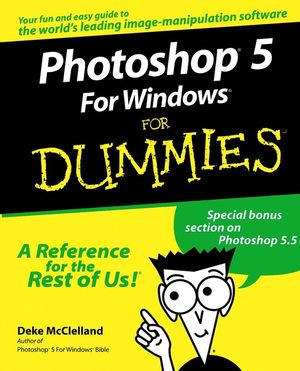 Transform ordinary images into breathtaking works of digital art with the advanced power and endless possibilities of Photoshop 5, Adobe's state-of-the-art digital imaging software. Take the grand tour of Version 5 with veteran tour guide Deke McClelland, and then move into new and exciting realms of digital wizardry as you master an array of text effects, image enhancements, and other wondrous things that make Photoshop 5 so hugely popular among the digiterati.

Photoshop guru McClelland takes you gently -- and intelligently -- through the world of pixels, paintbrushes, and special effects with friendly, easygoing, down-to-earth tips and tricks to help you master the fine art of digital imagery. Clean up bad scans and poor-quality pictures, learn special painting tricks, create collages, add gradient fills and strange warps, explore new filters, and make your artistic masterpieces publishing-perfect or Web-ready with Photoshop 5. Plus, 16 pages of full-color examples -- and dozens of black-and-white images -- add to the visual content of this great guide for professional image-makers and amateur artists alike.
See More
Introduction.

PART I: What the .? Aagh, Help Me!

Chapter 1: Meet Dr. Photo and Mr. Shop.

Chapter 2: Canvassing the On-Screen Canvas.

Chapter 3: Now the Fun Really Begins.

PART II: The Care and Feeding of Pixels.

Chapter 4: Sizing Up Your Image.

Chapter 5: Auntie Em versus the Munchkins (Death Match).

Chapter 6: Save Before You Say Good Night.

Chapter 7: Going to Hard Copy.

PART III: Tiptoe through the Toolbox.

Chapter 8: Paint Me Young, Beautiful, and Twisted.

Chapter 9: Making a Mockery of Reality.

Chapter 10: Cleaning Up Goobers.

Chapter 11: Turning Back the Digital Clock.

PART IV: Select Before You Correct.

Chapter 12: The Great Pixel Roundup (Yee Ha).

Chapter 13: More Fun with Selections.

Chapter 14: Coloring inside the Lines.

PART V: So, You Say You're Serious about Image Editing.

Chapter 15: Layers upon Layers upon Layers.

Chapter 16: Digital Graffiti.

Chapter 17: Forays into Filters.

Chapter 18: Drawing Color from a Dreary Wasteland.

PART VI: The Part of Tens.

Chapter 19: Ten Tricky Techniques to Assign to Memory.

Chapter 20: Ten Amusing Ways to Mess Up a Loved One's Face.

Chapter 21: Ten Things to Do with Your Photoshop Masterpiece.

Photo Credits.

Index.

Book Registration Information.
See More
Deke McClelland is a renowned digital graphics authority and an award-winning author whose more than 40 books have sold over 2 million copies.
See More