FrontPage 2000 For Dummies
ISBN: 978-0-7645-0423-5
408 pages
May 1999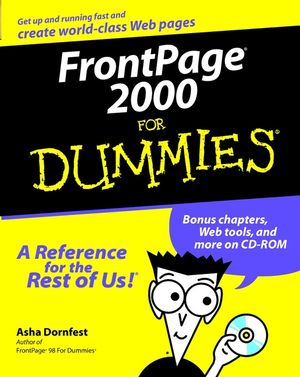 A few years ago, geeks, academics, and soda-fueled computer jocks populated the Internet. Today, everyone – from CEOs to seventh-grade students to weekend technology fiends – wants to get online. And people don't just want to surf. They each want to carve out a unique personal space: They want a Web site.
Until recently, only the technically gifted and artistically inclined attempted to publish sites on the Web. Not anymore. FrontPage 2000 brings new ease to Web publishing. Without any knowledge of HTML (the language used to create Web pages), you can use FrontPage to build and manage a beautiful and sophisticated Web site, complete with exciting effects you see on those other sites. FrontPage 2000 For Dummies introduces you to the ins and outs of online design, while sharing expert insight into ways to
Tweak your text
Make things happen with hyperlinks
Add pictures and graphics to your pages
Create an image map
Work with themes
Launch your page into the big, wide Internet world
Whether you're a beginner building your first family Web page or a professional designer looking to polish certain aspects of your site, FrontPage 2000 For Dummies will put you in the driver's seat in a race through cyberspace. Expect to discover how to
Create Web pages that incorporate text, graphics, hyperlinks, image maps, tables, and multimedia.
Add creative fonts, lists, symbols, borders and shading, comments, and user forms to your Web pages.
Take advantage of FrontPage 2000's integration with Office 2000.
Maintain and update your Web site using FrontPage 2000.
Use all the features of FrontPage to keep your site looking and feeling brand-spanking fresh and new.
With so many people jumping on the Web publishing bandwagon, you can easily feel like you've been left in the dust. If you're edging your way into the Internet Age (or being dragged in, kicking and screaming, by your employer or your kids), you're in for a pleasant surprise: Creating your own Web site with FrontPage 2000 is easy and fun with FrontPage 2000 For Dummies.
See More
Introduction.

About This Book.

Conventions Used in This Book.

What You're Not to Read.

Foolish Assumptions.

How This Book Is Organized. Part I: Getting Friendly with FrontPage.

Part II: Creating Web Pages That Make You Look Like a Genius.

Part III: Nifty Web Additions.

Part IV: Taking Your Web Site to a New Level.

Part V: The Part of Tens.

Part VI: Appendixes.

Icons Used in This Book.

Where to Go from Here.

Part I: Getting Friendly with FrontPage.

Chapter 1: Weaving a FrontPage Web.

Chapter 2: Web Management 101.

Chapter 3: Playing with Web Pages.

Part II: Creating Web Pages That Make You Look Like a Genius.

Chapter 4: Web Design Fundamentals.

Chapter 5: Tweaking Your Text.

Chapter 6: Hyperlinks: Your Web Site's Ticket to Ride.

Chapter 7: You Oughta Be in Pictures.

Chapter 8: Creating an Image Map.

Chapter 9: You Don't Have to Take Wood Shop to Build a Table.

Chapter 10: Forms Aren't Only for the IRS.

Chapter 11: I've Been Framed!

Part III: Nifty Web Additions.

Chapter 12: Playing in the FrontPage Theme Park.

Chapter 13: Eye-Popping Extras: Multimedia, Dynamic HTML, and Style Sheets. Chapter 14: Cool Components.

Part IV: Taking Your Web Site to a New Level.

Chapter 15: Sharing Access to Your Web Site.

Chapter 16: Making Your Worldwide Debut.

Part V: The Part of Tens.

Chapter 17: Ten Things You Can Do with Your Web Site.

Chapter 18: Ten Web Spots You Don't Want to Miss.

Part VI: Appendixes.

Appendix A: Installing FrontPage.

Appendix B: What's on the CD.

Index.

End-User License Agreement.

Book Registration Information.
See More
On her first day of college, Asha Dornfest took a bold step: She replaced her broken typewriter with a PC.
Asha did not consider herself a geek; her computer was simply a tool to help her write papers and reports. But by her senior year, she had defended her clunky PC against so many insults from Mac-loving roommates that she came to regard her computer with a sense of kinship.
After graduation, Asha trudged into the real world with a liberal arts degree and strong computer skills. (Which do you think got her a job?) She soon realized that she enjoyed showing people how computers could simplify their lives, when the things weren't making life more difficult, that is.
In 1994, Asha discovered the Internet. Soon after, she and her husband Rael started a Web design business in their dining room and began hawking their electronic wares. Mind you, this venture began during the Web-publishing Stone Age; many people had never even heard of the World Wide Web. A savvy friend quipped that ...For Dummies books about Web publishing may one day hit the shelves. Asha scoffed.
Today, Asha writes and teaches classes about Web publishing and other Internet-related topics. She welcomes visitors to her virtual home at www.ashaland.com.
See More