Microsoft Office 2000 For Windows For Dummies
ISBN: 978-0-7645-0452-5
504 pages
May 1999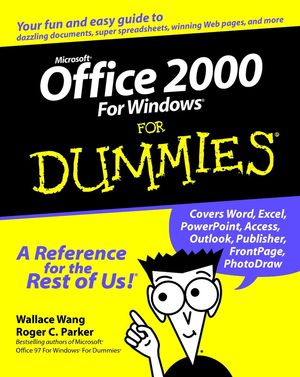 More than 70 million people have made Microsoft Office the most popular business software package on the planet. Whether you're a newcomer to the power and productivity of the entire Office suite -- with its word processing, spreadsheet, database, presentation, Web design, desktop publishing, and e-mail software -- or discovering Microsoft Office for the first time, you'll find yourself right at home with the friendly advice and plain-English answers inside Microsoft Office 2000 For Windows For Dummies.

Get all Office 2000 programs working together -- Word, Excel, PowerPoint, Access, FrontPage, Outlook, Publisher, PhotoDraw, and Internet Explorer -- and take your computing skills to the next level. Publish professional-looking Web pages from Word, Excel, PowerPoint, Publisher, and FrontPage. Organize your schedule and e-mail with Outlook; create dazzling slide presentations with PowerPoint; create documents quickly with Word; and budget your finances with Excel's cool charts and graphs.

Microsoft Office 2000 For Windows For Dummies covers the Standard, Professional, and Premium editions of Office 2000, so whatever your needs, we've got the answers!
See More
Introduction.

PART I: Getting to Know Microsoft Office 2000.

Chapter 1: Starting Microsoft Office 2000.

Chapter 2: Getting Help from Microsoft Office 2000 and the Office Assistant.

Chapter 3: Understanding Office 2000 Menus, Toolbars, and Windows.

PART II: Working with Word 2000.

Chapter 4: Working with Word 2000 Documents.

Chapter 5: Manipulating Your Words.

Chapter 6: Making Your Words Look Pretty.

Chapter 7: Creating Fancy Newsletters and Web Pages.

PART III: Playing the Numbers Game with Excel 2000.

Chapter 8: The Basics of Spreadsheets: Numbers, Labels, and Formatting.

Chapter 9: Having Fun with Formulas and Functions.

Chapter 10: Charting Your Numbers.

Chapter 11: Working with Worksheets and Workbooks.

PART IV: Making Presentations with PowerPoint 2000.

Chapter 12: Creating Slide Show Presentations.

Chapter 13: Adding Text and Colors to Slides.

Chapter 14: Showing Off Your PowerPoint Presentations.

PART V: Getting Organized with Outlook 2000.

Chapter 15: Scheduling Your Time.

Chapter 16: Setting Tasks and Making Contacts.

Chapter 17: Organizing Your E-Mail.

PART VI: Storing Stuff in Access 2000.

Chapter 18: Stuffing Information into a Database.

Chapter 19: Searching, Sorting, and Making Queries.

Chapter 20: Reporting Your Access 2000 Data.

Chapter 21: Getting Paperwork Done with Access 2000 and Word.

PART VII: Designing Pages with Publisher 2000.

Chapter 22: Designing a Page.

Chapter 23: Modifying Text and Graphics.

PART VIII: Creating Web Pages and Editing Photos.

Chapter 24: Designing a Web Pages with FrontPage.

Chapter 25: Organizing Your Pages with Tables, Frames, and Lines.

Chapter 26: Editing Images with PhotoDraw.

PART IX: The Part of Tens.

Chapter 27: Ten Common Microsoft Office 2000 Keystrokes.

Chapter 28: Ten Tips for Using Microsoft Office 2000.

Index.

Book Registration Information.
See More
Wallace Wang's many computer book bestsellers include Beginning Programming For Dummies??. Roger C. Parker is also the author of Desktop Publishing & Design For Dummies??.
See More