Windows 2000 Registry For Dummies
ISBN: 978-0-7645-0489-1
384 pages
January 2000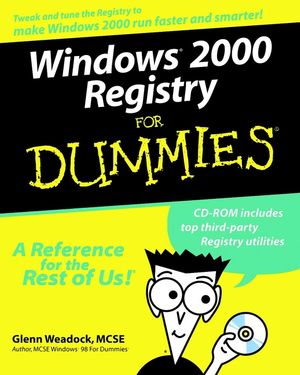 CD-ROM includes top third-party Registry utilities
Navigate the Registry with our unique fold-out map
Fine-tune your Registry with confidence — and turbocharge your system! If you're looking for an easy-to-follow road map to reliable Registry improvements, you've come to the right place. Whether you're a power user running Windows 2000 Professional or a network administrator running Windows 2000 Server, this friendly, failsafe guide delivers the tools you need to tinker with the Registry — and make your system faster, easier to use, and more secure. all this on the bonus CD-ROM RegMon freeware version — Watch Registry changes occur in real time Multi-Remote Registry Change 3.1 demo version — Make a Registry change and roll it out quickly over your network InstallWatch Basic 1.1 freeware version — Monitors changes that applications make to the operating system as they install PC with Pentium 166 or faster with 32MB RAM, Windows 2000 (any version); CD-ROM Drive (4x or faster). For complete information and system requirements, see the CD Appendix.
Discover how to: Customize the Registry to enhance Windows 2000 performance Create Registry backups to avoid disaster Make changes using control panels, REGEDIT, and REGEDIT32 Troubleshoot Registry problems Roll out Registry tweaks across a network
Get smart! www.dummies.com Register to win cool prizes Browse exclusive articles and excerpts Get a free Dummies Daily™ e-mail newsletter Chat with authors and preview other books Talk to us, ask questions, get answers
See More
Introduction.
PART I: Start Your Engines: Introducing the Registry.
Chapter 1: Why Does the Registry Matter?
Chapter 2: Registry Backup 101.
Chapter 3: Editing the Registry without a Registry Editor.
Chapter 4: Registry Editors, from Headlights to Taillights.
PART II: Rally Map: The Registry's Structure.
Chapter 5: Where the Files Are.
Chapter 6: The Registry's Logical Structure.
PART III: Mag Wheels and Pinstripes: Customizing the Registry.
Chapter 7: Customizing Security with the Registry.
Chapter 8: Customizing User Profiles.
Chapter 9: Customizing the Desktop.
PART IV: Flat Repair: Troubleshooting the Registry.
Chapter 10: A Dozen Registry Problems (And Solutions!).
Chapter 11: Restoring the Registry.
PART V: For Rally Masters Only: The Networked Registry.
Chapter 12: Network Management and the Registry.
Chapter 13: Network Services and the Registry.
PART VI: The Part of Tens.
Chapter 14: Ten (Or So) Registry Tricks.
Chapter 15: Ten (Or So) More Registry Tricks.
Appendix: About the CD.
Index.
IDG Books Worldwide End-User License Agreement.
Installation Instructions.
Book Registration Information.
See More
Glenn Weadock, MCSE, runs a software consulting firm and teaches courses on Windows. His many books include Small Business Networking For Dummies®.
See More