AutoCAD 2000 For Dummies
ISBN: 978-0-7645-0558-4
408 pages
July 1999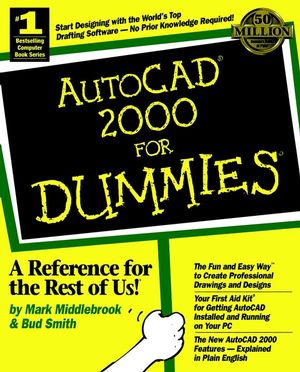 With AutoCAD 2000 For Dummies, you'll quickly discover just how easy it is to create professional-quality designs and drawings. Authors Mark Middlebrook and Bud Smith show you how to set up a design, draw and edit lines, add text and dimensions, even incorporate AutoCAD documents into your Web pages-all while avoiding those common gotchas." Whether you're a new AutoCAD user or you've just upgraded to AutoCAD 2000, this easy-to-use reference delivers all the answers you need to get up to speed.

Inside, find helpful advice on how to:
* Discover the new AutoCAD 2000 features-and put them to work
* Take full advantage of color and lineweight with the new AutoCAD 2000 approach
* Use both menu and toolbar access to commands
* Set up a drawing so that it prints without problems
* Speed up your work by using the command line as an accelerator
* Enhance your Web pages with the new AutoCAD 2000 Web access features
* Increase accessibility of your AutoCAD drawings by using AutoCAD DesignCenter
See More
Introduction.

PART I: AutoCAD 101.

Chapter 1: Introducing AutoCAD 2000.

Chapter 2: Le Tour de AutoCAD 2000.

Chapter 3: Taking Control of AutoCAD.

Chapter 4: Setup Comedy.

PART II: Let There Be Lines.

Chapter 5: Ready, Set, Draw!

Chapter 6: Tooling Around in Your Drawing.

Chapter 7: Edit It.

Chapter 8: A Zoom with a View.

PART III: Make Your Drawing Beautiful.

Chapter 9: The Plot Thickens.

Chapter 10: Text with Character.

Chapter 11: Entering New Dimensions.

Chapter 12: Hatch . Hatch . Hatchoo!

PART IV: Having It Your Way.

Chapter 13: Playing Blocks and Rasteroids.

Chapter 14: Data-Based Drawing.

Chapter 15: 3D for Me, See?

PART V: The Part of Tens.

Chapter 16: Ten Ways to Do No Harm.

Chapter 17: Ten Great AutoCAD Resources (Plus One).

Chapter 18: Ten Ways to Use the Web with AutoCAD.

PART VI: Appendixes.

Appendix A.

Appendix B.

Index.

Book Registration Information.
See More
About the Authors Mark Middlebrook is president of Daedalus Consulting and a contributing editor to CADALYST magazine. He was also a contributor to Maximizing AutoCAD R13 from Autodesk Press. Bud Smith has been writing about computers for more than ten years and has worked for Intel, IBM, and Apple. His books include Creating Web Pages For Dummies??, Marketing Online For Dummies??, and Push Technology For Dummies??.
See More