Mac OS 9 For Dummies
ISBN: 978-0-7645-0652-9
432 pages
November 1999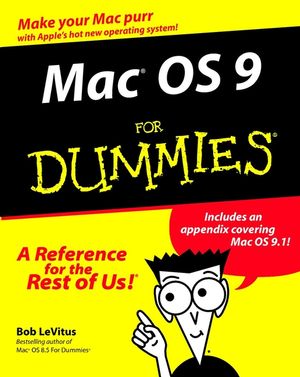 Mac OS 9 is a big, complicated personal computer operating system.
Mac OS 9 For Dummies
is a not-so-big, not-very-complicated book that shows you what Mac OS 9 is all about without boring you, confusing you, or otherwise making you uncomfortable. Take a deep breath and get ready to have some fun.
Whether you're brand-spanking new to the Mac or a grizzled old Mac-vet, discovering the ins and outs of Mac OS 9 will be easy and fun. Mac OS 9 For Dummies is ready to help you to
Master Mac basics
Customize your Mac for multiple users
Share resources on a network
Save time with simple tweaks
Automate with AppleScript
Harness the advanced Sherlock 2 search engine
This book is chock-full of information and advice and explains everything you need to know about Mac OS 9 in language you'll understand. It's also supplemented with tips, tricks, techniques, and steps, served up in generous quantities. Mac OS 9 For Dummies covers all of the following topics, and more:
The startup process revealed
Desktop and menu basics
File management made simple
Memory of all kinds
Timesaving tips
Helpful control tweaks
Introduction to AppleScript
Internet surfing
Troubleshooting
In addition to the wealth of tips, tricks, and techniques that you'll find in every chapter, the most useful element of this book just might be the chapter covering every inch of your System Folder. Finally, you can figure out just what each file is and why you need it or don't. If you think your Mac runs like a champ now, just wait'll you see it after spending time with this book.
See More
Foreword.

Introduction.

PART I: Basic Training.

Chapter 1: Mac OS 9 101 (Prerequisites: None).

Chapter 2: Meet the Desktop.

Chapter 3: Disk Could Be the Start of Something Big.

Chapter 4: Delectable Menus, Volume I.

Chapter 5: Delectable Menus, Volume II.

Chapter 6: Polishing the Apple (Menu).

Chapter 7: Understanding the Save and Open Dialog Boxes.

PART II: Making It Purr.

Chapter 8: File Management Made Simple.

Chapter 9: Publish or Perish: The Fail-Safe Guide to Printing.

Chapter 10: File Sharing for the Rest of Us.

Chapter 11: Memory and Other Seemingly Complicated Arcana.

PART III: U 2 Can B A Guru.

Chapter 12: Sure-Fire, Easy-to-Use, No (or Low)-Cost Timesaving Tips.

Chapter 13: Advanced Techniques for Beginners.

Chapter 14: Control Tweaks.

Chapter 15: How to Write an AppleScript in 21 Minutes.

Chapter 16: What Can Stay and What Can Go.

Chapter 17: Internet-Working.

Chapter 18: What to Do When Good System Software Goes Bad.

PART IV: The Part of Tens.

Chapter 19: At Least Ten Pieces of Mac OS 9 That You Might Someday Need.

Chapter 20: Ten Ways to Make Your Mac Better by Throwing Money at It.

Chapter 21: Ten Great Web Sites for Mac Enthusiasts.

PART V: Appendixes.

Appendix A: Anyone Can Install Mac OS 9.

Appendix B: Back Up Now or Regret It Later.

Appendix C: What Mac OS 9.1 Brings to the Party.

Index.

Book Registration Information.
See More
Bob Dr. Macintosh LeVitus' books about Macintosh computers, which include MacWorld?? Office 2001 Bible, Stupid Mac Tricks, AppleWorks?? 6 For Dummies??, and Mac OS X For Dummies, have sold more than a million copies.
See More