FrontPage 2002 For Dummies
ISBN: 978-0-7645-0821-9
384 pages
May 2001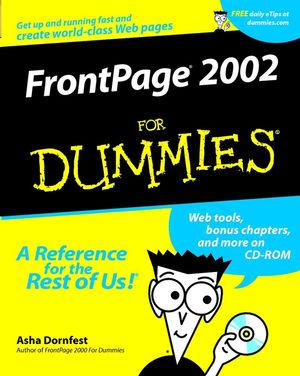 Until recently, only the technically gifted and artistically inclined attempted to publish sites on the Web. If you wanted to look good on the Web, you needed either techno-talent or the bucks to commission someone who had it. Not anymore. FrontPage 2002, the latest incarnation of the Microsoft Web site creation tool, brings new ease to Web publishing. Without any knowledge of HTML (the language used to create Web pages), you can use FrontPage to build and manage a beautiful and sophisticated Web site.
If you have FrontPage loaded on your PC but feel a bit nervous about beginning your Web site, then FrontPage 2002 For Dummies will soothe your nerves and guide you through the process. This reference guide is also for anyone who wants to
Upgrade from an older version of FrontPage
Build a professional-quality site to showcase a new business
Start an online business
Impress potential employers with an online dossier
Spread the word about a special cause
Set up a privacy-protected site for use by family and friends
FrontPage is no small topic – here's a look at just some of the handy tips, tools, and techniques you'll find in FrontPage 2002 For Dummies:
Import an existing Web site into FrontPage
Preview, print, and save a page
The Five Steps to a Brilliant Web Site
Work with hyperlinks and bookmarks
Adding graphics and pictures
Create image maps, tables, forms, and frames
Add video and music
Insert a hover button, marquee, or banner advertising
Keep your Web site secure
FrontPage 2002 For Dummies comes with a free CD-ROM loaded with a bonus chapter; free custom art; FrontPage themes; and free trial versions of Paint Shop Pro 7, Adobe Acrobat Reader, Hi-Position, JustAddCommerce, and more!
See More
Introduction.

PART I: Law School Fundamentals.

Chapter 1: Contracts Rule!

Chapter 2: Filing It or Deep-Sixing It.

Chapter 3: Resolving Problems without Lawsuits.

Chapter 4: Filing a Lawsuit.

Chapter 5: Using an Attorney.

PART II: Credit Matters.

Chapter 6: Consumer Credit: It's the American Way.

Chapter 7: Dealing with Credit Bureaus and Protecting Your Financial Information.

Chapter 8: Drowning in Debt.

Chapter 9: Bankruptcy: The Last Resort.

Chapter 10: Life After Debt: Making a Fresh Start.

PART III: Other Money Matters.

Chapter 11: Tackling Telemarketers and Taxes.

Chapter 12: Getting Car Smart.

Chapter 13: Arming Yourself with Insurance.

Chapter 14: Disposing of Your Stuff: Wills, Trusts, Living Wills, and More.

PART IV: Home Matters.

Chapter 15: Buying or Selling Your Home.

Chapter 16: Getting a Mortgage.

Chapter 17: Improving Your Home: Working with Contractors.

Chapter 18: Being a Tenant.

PART V: Personal Matters.

Chapter 19: Insuring Yourself and Your Loved Ones.

Chapter 20: Accessing Your Medicare Benefits.

PART VI: The Part of Tens.

Chapter 21: Ten Resources You Can Rely On.

Chapter 22: Ten Law-Oriented Web Sites to Bookmark.

Appendix A: About the CD.

Index.

Hungry Minds End-User License Agreement.

Installation Instructions.

Book Registration Information.
See More
Asha Dornfest teaches classes in Web publishing and is the author of several books on the topic.
See More