Office XP For Dummies
ISBN: 978-0-7645-0830-1
408 pages
May 2001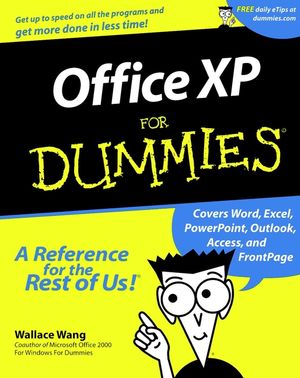 Microsoft Office XP consists of several programs: a word processor (Word 2002), a spreadsheet program (Excel 2002), a presentation graphics program (PowerPoint 2002), a personal information organizer and e-mail client (Outlook 2002), and a database program (Access 2002). And depending on the version of Office XP that you get, you may have bonus programs that include a Web-page design and management application (FrontPage 2002).
Having so many programs at your disposal can be very intimidating, especially for the beginning user. Which program do you use for which task? How can you get information from one program into another? Which programs do you really need, and which ones can you safely ignore? Your questions will abound and confound!
Office XP For Dummies answers all these questions and more – in easy-to-understand terms and without all that computer-geek gibberish. It gently explains the basics for each program so that you can start using them right way. Here are a few of the topics covered in Office XP For Dummies:
Getting acquainted with the Office XP interface
Using Word to create reports and other fancy documents
Setting up spreadsheets in Excel to help you in your business
Creating slideshow presentations in PowerPoint
Managing your e-mail, calendar, and contact information in Outlook
Developing easy-to-use databases
Designing awesome Web pages quickly and hassle-free
For beginners, Office XP For Dummies is the perfect overview of the entire Office XP suite; for more advanced users, it contains many tips and tricks to make using all these different programs a breeze.
See More
Introduction.

PART I: Getting to Know Microsoft Office XP.

Chapter 1: Starting Microsoft Office XP.

Chapter 2: Common Office XP Menu and Keystroke Commands.

Chapter 3: Getting Help from Microsoft Office XP.

PART II: Working with Word.

Chapter 4: Working with Word Documents.

Chapter 5: Manipulating Your Words.

Chapter 6: Making Your Words Look Pretty.

Chapter 7: Creating Fancy Pages.

PART III: Playing the Numbers Game with Excel.

Chapter 8: The Basics of Spreadsheets: Numbers, Labels, and For.

Chapter 9: Having Fun with Formulas and Functions.

Chapter 10: Charting Your Numbers.

PART IV: Making Presentations with PowerPoint.

Chapter 11: Creating Slide Show Presentations.

Chapter 12: Adding Color and Pictures to PowerPoint.

Chapter 13: Showing Off Your PowerPoint Presentations.

PART V: Getting Organized with Outlook.

Chapter 14: Scheduling Your Time.

Chapter 15: Setting Tasks and Making Contacts.

Chapter 16: Organizing Your E-Mail.

PART VI: Storing Stuff in Access.

Chapter 17: Stuffing Information into a Database.

Chapter 18: Searching, Sorting, and Making Queries.

Chapter 19: Reporting Your Access Data.

PART VII: Making Web Pages with FrontPage.

Chapter 20: Designing a Web Page with FrontPage.

Chapter 21: Organizing Your Pages with Tables, Frames, and Line.

PART VIII: The Part of Tens.

Chapter 22: Ten Tips for Using Microsoft Office XP.

Chapter 23: Ten Common Microsoft Office XP Shortcuts.

Index.

Book Registration Information.
See More
Wallace Wang is a Boardwatch magazine columnist and standup comedian whose many bestselling books include Beginning Programming For Dummies and Steal This Computer Book 2.
See More