Puppies Raising & Training Diary For Dummies
ISBN: 978-0-7645-0876-9
216 pages
October 2001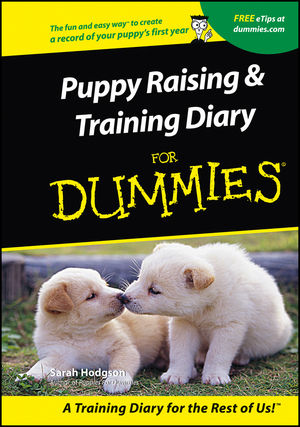 This super-friendly diary helps puppy owners discover fun ways to raise and their puppy, based on a weekly calendar of growth and development. It offers:
* Puppy how-to guidance and a diary to record growth and development
* Expert advice on teaching a dog to be a well-behaved member of the family
* Tips on raising a healthy dog and handling developmental problems
* Pointers on building a strong emotional bond with a puppy
See More
PART I: I've Picked Out My Pup -- What's Next?

Chapter 1: Creating a Comfortable Home for Your Puppy.

Chapter 2: Early Training for You & Your Puppy.

Chapter 3: Communicating with Your Puppy.

Chapter 4: House-training.

PART II: The Puppy Raising & Training Diary.

Diary Pages.

PART III: The Part of Tens.

Chapter 5: Ten Ways to Keep Puppy Healthy.

Chapter 6: Ten Fun Games.

Index.

Book Registration Information.
See More
Sarah Hodgson, director of Simply Sarah, Inc., has taught dog-training classes for over fourteen years. She is the author of Puppies For Dummies, You & Your Puppy, and DogPerfect.
See More