Adobe Premiere 6.5 Complete Course
ISBN: 978-0-7645-1896-6
Paperback
458 pages
March 2003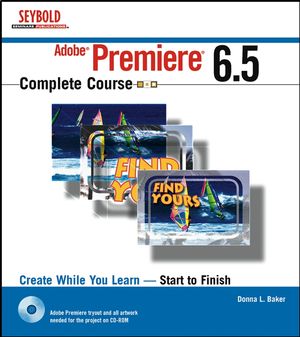 This title is out-of-print and not currently available for purchase from this site.
Do you think you've discovered an error in this book? Please check the list of errata below to see if we've already addressed the error. If not, please submit the error via our Errata Form. We will attempt to verify your error; if you're right, we will post a correction below.
Chapter
Page
Details
Date
Print Run
80
Steps 3 & 4


Steps 3 & 4 instruct you to change the speed to 110% to result in a duration of 2:02. That is incorrect. In the Speed/Duration dialog box, click the Duration setting and type 202. That changes the duration to 02:02, and resets the speed at 226.16%.

CD
CD Missing Confidence Builder exercise
Several files required to complete the "Confidence Builder" exercise were not included on the CD. You may download a .ZIP archive of the missing files from the download page.
CD
Premiere 6.5 Trial not on CD


Please note this title was released before the retail version of Premiere 6.5 was made available, and therefore the only trial available at the time was Premiere 6.0 which is the trial available on the CD. If you would like to use the trial of Premiere 6.5, please go to http://www.adobe.com/products/tryadobe/main.jsp and you may download a free trial.