Feng Shui Your Workspace For Dummies
ISBN: 978-0-7645-1987-1
288 pages
June 2003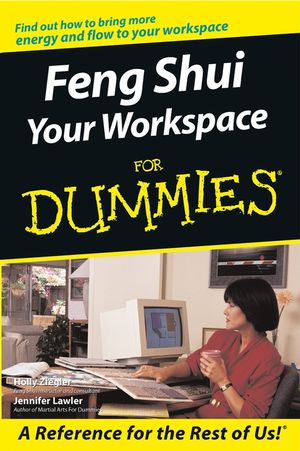 Feng Shui is the ancient Chinese art of arranging physical space to maximize positive energy. Whether you're a novice or knowledgeable about Feng Shui, a powerful CEO or an assistant, this guide will help you tap the power of Feng Shui in your workplace to boost your productivity and performance.
Feng Shui Your Workplace For Dummies
will help you work more effectively, with dozens of simple fixes and tweaks to enhance energy, increase harmony, relieve tension, and promote career achievement. You'll get an overview of Feng Shui terminology and principles and discover how to:
Deal with any type of workplace, including a cramped cubicle, open concept office, traditional office, or a makeshift home setup
Choose and arrange furniture to bring more energy and flow to your workspace
Deal with improper lighting, glass doors, and walls
Reduce clutter
Use light, flowers, and sound to create harmony
Make the most of color and texture, including dressing for success
Use Feng Shui in your interactions with others for harmonious relationships with colleagues
Build a business the Feng Shui way
Written by Holly Zeigler, a Feng Shui devotee and consultant for commercial and residential architects and developers, and Jennifer Lawler, a master at Martial Arts and author of Martial Arts For Dummies and ASVAB For Dummies, this book helps you put the time-honored principles of Feng Shui to work in your workplace! It even includes a workspace sketch pad to help you plan your furniture placement. After all, according to Feng Shui, something as simple as moving the furniture in your workspace can help you move up in the workplace!
See More
Introduction.
Part I: Reading Feng Shui's Resume.
Chapter 1: Figuring Out Feng Shui.
Chapter 2: Moving and Grooving with Chi.
Chapter 3: Gathering People and Principles Together.
Part II: Conceptualizing and Strategizing: Oddly at Peace with Peace.
Chapter 4: Harmonizing with Light, Flowers, and Sound.
Chapter 5: Brushing Up on Color and Texture.
Chapter 6: Zoning In on Electronic Fixes.
Part III: Energizing and Feng Shui-ing Your Work Area.
Chapter 7: Building a Business the Feng Shui Way.
Chapter 8: Squaring Off with Cubicles.
Chapter 9: Grasping the Open Concept Office.
Chapter 10: Tackling the Traditional Office.
Chapter 11: Jamming in Your PJs: Working from Home.
Chapter 12: Nestling into Nontraditional Workspaces.
Chapter 13: Breaking Into Rooms: Waiting, Storage, and Bath.
Part IV: Interacting with Others: Implementing for Success.
Chapter 14: Personal Power and Successful Work Relationships.
Chapter 15: Making Your To-Do List: Meeting Goals.
Part V: The Part of Tens.
Chapter 16: Ten Top Feng Shui Helpers.
Chapter 17: Ten Ways to Increase Your Wealth.
Chapter 18: Ten Ways to Create Harmony with Co-Workers.
Chapter 19: Ten Ways to Get Yourself into a Power Position.
Appendix: Your Workspace Sketch Pad.
Index.
See More
Holly Ziegler is a sought-after Feng Shui instructor and consultant.
Jennifer Lawler is a master at martial arts, a Tae Kwon Do competitor, and is also the coauthor of ASVAB For Dummies.
See More