Windows 2000 Professional Bible
ISBN: 978-0-7645-3424-9
960 pages
February 2000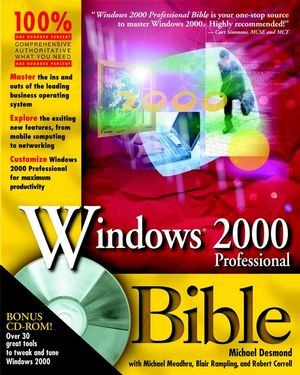 Reveals how to master every aspect of Windows 2000 Professional, from installation, tune-ups, and software to the Internet, multimedia, mobile computing, and advanced topics. Registry tweaking and network management. Softcover, CD-ROM included, DLC:Microsoft Windows(Computer file).
See More
Acknowledgements ix
Part I: Get to Know Windows 2000 1
Chapter 1: Welcome to Windows 2000 3
Chapter 2: Navigation Basics 27
Chapter 3: Installing and Removing Software 67
Chapter 4: Installing and Removing Hardware 83
Chapter 5: Using the Windows 2000 Accessories 117
Part II: Tuning Windows 2000 Professional 135
Chapter 6: Getting Organized 137
Chapter 7: Disk Maintenance 163
Chapter 8: Fixing and Updating Windows 2000 189
Chapter 9: Make Windows 2000 Accessible 225
Chapter 10: Fraternizing with Fonts 251
Part III: Windows 2000 and the Internet 265
Chapter 11: Setting Up Modems 267
Chapter 12: Dial-up Networking 303
Chapter 13: Using Internet Explorer 5.0 341
Chapter 14: Outlook Express Explained 389
Chapter 15: Conferencing with NetMeeting 427
Part IV: Graphics and Multimedia 459
Chapter 16: Setting Up the Display 461
Chapter 17: Working with Audio and Video 491
Chapter 18: DirectX and Gaming 525
Part V: Networking with Windows 2000 551
Chapter 19: Networking 101 553
Chapter 20: Networking Windows 2000 593
Chapter 21: Virtual Private Networks 627
Chapter 22: Using Windows 2000 Professional as a Web Server 641
Part VI: Digging Deeper 677
Chapter 23: Installing Windows 2000 Professional 679
Chapter 24: Power Management 705
Chapter 25: Hack Happy: Plumbing the Registry 725
Chapter 26: Windows Script Host 769
Chapter 27: Administrative Tools in Windows 2000 Professional 791
Appendix A: Introducing Intellimirror 841
Appendix B: Introducing Active Directory 855
Appendix C: Windows 2000 Resource Guide 873
Appendix D: What's on the CD-ROM 881
Glossary 887
Index 897
End-User License Agreement 932
CD-ROM Installation Instructions 935
See More
About the Authors Michael Desmond is an award-winning computer industry journalist, author, and editorial consultant. He is the author of Peter Norton's Complete Guide to PC Upgrades, 2nd Edition, coauthor of Platinum Edition: Using Windows 95, and a contributor to numerous other computing books. Previously senior editor of news at PC World magazine and president of the Computer Press Association, Michael now runs an editorial consulting business for high-tech companies and publishers. His Web site can be found at http://www.MichaelDesmond.com. Michael is also an adjunct professor of journalist at St. Michael's College. Michael earned an M.S. in Journalism from Northwestern University's Medill School of Journalism, and a B.A. in Soviet Studies from Middlebury College in Vermont. A native of Cleveland, Ohio, Michael now lives in Burlington, Vermont, with his wife Anne and sons Kevin and Patrick. Michael Meadhra is an author and consultant who writes about a variety of computer-related topics. After several years experience in the corporate world, he began writing monthly software journals and now writes books such as this one. To date, he has coauthored or contributed to more than 30 titles on topics such as DOS, Windows, various application programs, the Internet, and online banking. Meadhra's other recent books include Lotus SmartSuite Millennium Edition For Dummies, Banking Online For Dummies, and StarOffice For Linux For Dummies, all published by IDG Books Worldwide. Blair Rampling is an information technology consultant from Delta, British Columbia. He specializes in bringing large, unruly networks into neat running order. Optimizing servers and reducing administrative overhead are his main focii, along with Microsoft Exchange administration. In the off hours, he enjoys mountain biking in the incredible trails around Southern BC and building cars for drag racing. Bob Correll received a B.S. in History at the United States Air Force Academy. He served as an Intelligence Officer in the US Air Force for seven and a half years, working in several disciplines. After leaving the Air Force he was hired by Macmillan Computer Publishing as a Software Specialist and after a year was promoted to Development Editor. He left Macmillan to work for a school corporation in Indiana and was responsible for training and professional development. He is now pursuing a full-time writing and technical editing career.
See More
Buy Both and Save 25%!
Windows 2000 Professional Bible (US $44.99)
-and- Windows PowerShell 2.0 Bible (US $39.99)
Total List Price: US $84.98
Discounted Price: US $63.73 (Save: US $21.25)
Cannot be combined with any other offers. Learn more.