Troubleshooting Your PC Bible, 5th Edition
ISBN: 978-0-7645-3510-9
936 pages
August 2000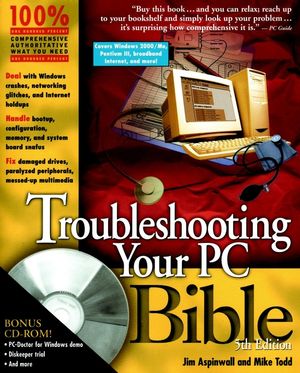 From boot-up to shutdown, keyboard to network adapter, hard disk to modem, PC/XT to P6, DOS to Windows 2000 and Linux, and CONFIG.SYS to REGEDIT, Troubleshooting Your PC Bible, Fifth Edition, is the definitive PC solution and reference guide. This wonderfully comprehensive, highly readable book promotes self-maintenance, guides technical support, and helps you improve system performance, setup and repairs. This expanded fifth edition includes coverage of Windows Millennium, Windows 2000, Linux, the Internet and more.
See More
Preface.
Acknowledgments.

Problem Index.

PART I: Getting Started.

Chapter 1: Troubleshooting.

Chapter 2: Tools of the Trade.

Chapter 3: Protecting Yourself.

Chapter 4: Your Personal Computer.

Chapter 5: Physical Versus Logical Devices.

PART II: The Soft Side of Your PC.

Chapter 6: Operating Systems, File Systems, and User Interfaces.

Chapter 7: DOS Parts.

Chapter 8: Windows for Home and Desktop.

Chapter 9: Windows for the Enterprise.

Chapter 10: Networking.

Chapter 11: The Internet.

PART III: The Hard Side of Your PC.

Chapter 12: Power and Startup Problems.

Chapter 13: Configuration Problems.

Chapter 14: System Boards.

Chapter 15: System Memory.

PART IV: Disk Drives.

Chapter 16: Disk Drive Basics.

Chapter 17: Disk Drive Utilities and Diagnostics.

Chapter 18: Hard Drives.

Chapter 19: Diskette, CD-ROM, and other Drives.

PART V: Other Parts of Your PC.

Chapter 20: Sights and Sounds.

Chapter 21: Basic Input and Output.

Chapter 22: Serial Input and Output.

PART VI: Maintaining Your PC.

Chapter 23: Do It YourselfWith Confidence!

Appendix A: Memory Maps and BIOS Data Areas.

Appendix B: Hardware Interrupt Requests and DMA Assignments.

Appendix C: Keyboard Codes and ASCII Chart.

Appendix D: Color Assignments and Video Modes Chart.

Appendix E: Hard Disk Drive Types (Standard, Extended, and Phoenix).

Appendix F: PC Error Codes, Beeps, and Diagnostic Messages.

Appendix G: Cabling Diagrams: Serial, Video, Keyboard, Parallel, Network and More.

Appendix H: Technical Support Trouble Report Data Form.

Appendix I: Favorite Links.

Appendix J: About the CD-ROM.

Glossary.

Index.

End-User License Agreement.

CD-ROM Installation Instructions.
See More
About the Authors Jim Aspinwall writes to support his PC habit, and he conveys his experiences to others as author of IRQ, DMA, & I/O and as Computer Currents magazine's "Windows Advisor" columnist. He brings to this fifth edition of Troubleshooting Your PC Bible several years of experience with PC utility software, PC diagnostic software, telecommuter-networking technical support, and online support. He has worked for DiagSoft, Vertisoft, TuneUp.com, Quarterdeck, and various high-tech firms. A consummate tinkerer, Jim still finds a few moments away from the keyboard to spend at his workbench in a dusty mountaintop radio shack or on a cold steel tower to build and maintain amateur-radio repeater systems. Mike Todd founded the Internet Society Los Angeles Chapter, the Capital PC User Group in Washington, DC, the IBM Special Interest Group on CompuServe (also on The Source and on Unison), and has promoted the development of computer user groups around the world. Along with Professor Sumpei Cumon, Mike spoke in 1985 at the inauguration of the NEC PC Value Added Network, which was one of the first public networks established in Japan. . Before retiring from the U.S.Navy, Mike fostered the development of the Navy&s Microcomputer User Group and trained the people who manage public education in how to use their PCs at each of the regional offices of the U.S. Department of Education. Most recently, Mike, along with a few new friends, has founded the Internet Society Los Angeles Chapter (ISOC-LA). At one of the first ISOC-LA sponsored events, which provided a free clinic for anyone having problems with their computer, Mike even helped a few MAC users upgrade their computers so that they could connect to the Internet. Mike's interests include developing communities and commerce over the Web, information systems technology, health care administration, applications in business and government, programming, computer consulting, hiking, body surfing, bicycle riding, and travel. Contacting the Authors Jim Aspinwall: Internet: wb9gvf@raisin.com or through www.raisin.com Mike Todd: Internet: Mike.Todd@miketodd.com, www.miketodd.com, or mtodd@ISOC-LA.org. The Troubleshooting Your PC Bible Web site can be found at www.typc.com.
See More
Buy Both and Save 25%!
Troubleshooting Your PC Bible, 5th Edition (US $44.99)
-and- Windows PowerShell 2.0 Bible (US $39.99)
Total List Price: US $84.98
Discounted Price: US $63.73 (Save: US $21.25)
Cannot be combined with any other offers. Learn more.