Photoshop 7 Complete Course
ISBN: 978-0-7645-3684-7
Paperback
496 pages
November 2002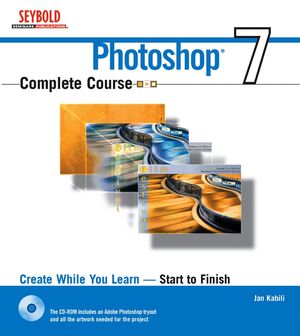 This title is out-of-print and not currently available for purchase from this site.
Introduction.

Confidence Builder.

PART I: Course Setup.

Photoshop Basics.

Project Overview.

PART II: Getting to Know Photoshop.

Session 1: Customizing Photoshop.

Session 2: Managing Documents.

Session 3: Viewing Documents.

PART III: Painting and Drawing.

Session 4: Choosing and Using Color.

Session 5: Painting and Filling with Pixels.

Session 6: Drawing with Vectors.

PART IV: Image Editing.

Session 7: Selecting.

Session 8: Using Layers.

Session 9: Compositing Images.

Session 10: Filters, Layer Styles, and Special Effects.

PART V: Text.

Session 11: Creating and Formatting Text.

Session 12: Special Text Effects.

PART VI: Working with Photographs in the Digital Darkroom.

Session 13: Using Darkroom Tools.

Session 14: Controlling Tone.

Session 15: Adjusting Color.

PART VII: Preparing Art for Print and Web.

Session 16: Creating Graphics, Pages, and Gallery Sites for the Web.

Session 17: Printing.

Appendix A: What's on the CD-ROM.

Index.