Access 2003 For Dummies
ISBN: 978-0-7645-3881-0
384 pages
October 2003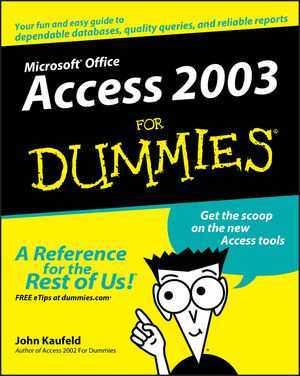 When you hear the word "database," do your eyes glaze over? Does the mention of fields and tables make your blood pressure skyrocket? Does the idea of entering and using hyperlinks make you hyperventilate?
Whether you're running a business or a household . . . whether you need to be able to quickly access customer information, your recipe for chicken cacciatore, or the Little League team's records, Access 2003 holds the key. This friendly guide unlocks the secrets of using Access 2003 to store, manage, organize, reorganize, and use data! It gives you:
The basics of the whole database concept
Suggestions for solving problems with Access
What you need to know to design, build, use, and change Access tables
Info on the ten most common types of fields
The scoop on using queries to unearth the answers hiding somewhere in your data
Guidelines for using the Access report system to make short work of long, previously time-consuming, reports
In the relaxed, comfortable For Dummies style, this book has easy-to-follow, step-by-step instructions and lots of screen shots. If you want to create and manage a database for a huge auction house, this guide will get you going . . . going . . .  gone. If you want to create a database for your music collection, it gives you the score then shows you how to use formatting and add graphics to jazz it up. You'll get the low-down on extracting all kinds of information from databases and putting that information to practical use. You'll discover how to:
Use Label Wizard to create mailing labels, file labels, shipping labels, or name tags
Use Chart Wizard to create line charts, bar, cone, and column charts, pie and donut charts, area charts, and XY and bubble charts
Use Auto Reports to create columnar or tabular reports and then fine-tune them
Export reports to Microsoft Word and Excel
Get your data Web-ready and put it on the Internet in either static or dynamic form
Build forms with Form Wizard
And speaking of high-tech fun, Access 2003 For Dummies even tells you how to install and use speech recognition software with Access 2003. So if the idea of working with databases has you talking to yourself, this is just the book you need.
See More
Introduction 1
Part I: Which Came First, the Data or the Base? 7
Chapter 1: The 37-Minute Overview 9
Chapter 2: Finding Your Way Around like a Native 23
Chapter 3: Calling the Online St. Bernard and Other Forms of Help 35
Part II: Truly Tempting Tables 41
Chapter 4: Designing and Building a Home for Your Data 43
Chapter 5: Relationships, Keys, and Indexes (and Why You Really Do Care) 67
Chapter 6: New Data, Old Data, and Data in Need of Repair 77
Chapter 7: Making Your Table Think with Formats, Masks, and Validations 87
Chapter 8: Making Your Datasheets Dance 103
Chapter 9: Table Remodeling Tips for the Do-It-Yourselfer 117
Part III: Finding the Ultimate Answer to Almost Everything 127
Chapter 10: Quick Searches: Find, Filter, and Sort 129
Chapter 11: Pose a Simple Query, Get 10,000 Answers 143
Chapter 12: Searching a Slew of Tables 157
Chapter 13: Lions AND Tigers OR Bears? Oh My! 167
Chapter 14: Teaching Queries to Think and Count 175
Chapter 15: Calculating Your Way to Fame and Fortune 187
Chapter 16: Automated Editing for Big Changes 199
Part IV: Turning Your Table into a Book 209
Chapter 17: AutoReport: Like the Model-T, It's Clunky but It Runs 211
Chapter 18: Wizardly Help with Labels, Charts, and Multilevel Reports 223
Chapter 19: It's Amazing What a Little Formatting Can Do 239
Chapter 20: Headers and Footers for Groups, Pages, and Even (Egad) Entire Reports 257
Part V: Wizards, Forms, and Other Mystical Stuff 273
Chapter 21: Spinning Your Data onto the Web 275
Chapter 22: Making Forms that Look Cool and Work Great 285
Chapter 23: If Love Is Universal, Why Can't I Export to It? 299
Chapter 24: The Analyzer: Your Data's Dr. Freud, Dr. Watson, and Dr. Jekyll 307
Chapter 25: Talking to Your Computer 315
Part VI: The Part of Tens 325
Chapter 26: Ten Timesaving Keyboard Shortcuts 327
Chapter 27: Ten Common Crises and How to Survive Them 331
Chapter 28: Ten Tips from Database Nerds 337
Index 343
See More
John Kaufeld has written all previous editions of Access For Dummies as well as several other books. John also operates shippertools.com, an online shipping assistant.
See More