Word 2003 Bible
ISBN: 978-0-7645-3971-8
Paperback
912 pages
October 2003
US $39.99

Add to Cart
This price is valid for United States. Change location to view local pricing and availability.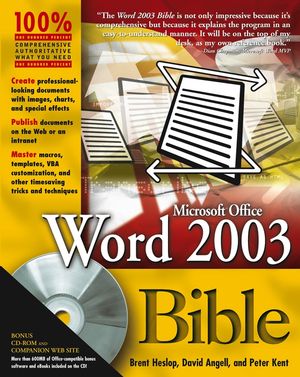 Other Available Formats:
E-book
Preface.
Acknowledgments.
Part I: The Fundamentals.
Chapter 1: Getting Started with Word 2003.
Chapter 2: Navigating and Editing Documents.
Chapter 3: Finding and Replacing Text and Formats.
Chapter 4: Character Formatting and Fonts.
Chapter 5: Paragraph Formatting.
Chapter 6: Printing Documents.
Chapter 7: Managing Documents.
Part II: Beyond the Basics.
Chapter 8: Proofing and Researching.
Chapter 9: Working with Tables.
Chapter 10: Sections, Columns, and Page Formatting.
Chapter 11: Using Bookmarks, Cross-References, Footnotes, and Links.
Chapter 12: Creating Indexes and Tables of Contents.
Part III: Working More Effectively.
Chapter 13: Styles and AutoFormatting.
Chapter 14: Using Templates, Wizards, and Themes.
Chapter 15: What Looks Good?
Chapter 16: Creating Documents Using Speech Recognition.
Part IV: Inserting Pictures and Other Content.
Chapter 17: Illustrating Your Documents with Graphics.
Chapter 18: More Object Types—Drawings, Text Boxes, and More.
Chapter 19: Advanced Graphics and Multimedia.
Chapter 20: Linking Information from Other Applications.
Chapter 21: Working with Microsoft Graph Chart and Microsoft Equation.
Part V: Complex Documents: Mail Merge, Forms, Outlines, and Web Pages.
Chapter 22: Creating Form Letters, Envelopes, Labels, and Catalogs.
Chapter 23: Creating Dynamic Documents Using Field Codes.
Chapter 24: Creating Forms.
Chapter 25: Getting Organized with Outlines and Master Document.
Chapter 26: Creating Basic Web Pages.
Chapter 27: Advanced HTML and XML.
Part VI: Distribution and Collaboration.
Chapter 28: Faxing and E-mailing with Word.
Chapter 29: Comments and Reviewing.
Chapter 30: Online Collaboration.
Part VII: Customizing and Troubleshooting Word.
Chapter 31: Troubleshooting and Overcoming Word's Idiosyncrasies.
Chapter 32: Customizing Menus, Options, Toolbars, and Keys.
Chapter 33: Making the Most of Word Macros and VBA.
Chapter 34: Securing Your Data.
Appendix A: What's New in Word 2003.
Appendix B: What's on the CD-ROM.
Index.
End-User License Agreement.