Microsoft Office FrontPage 2003 Bible
ISBN: 978-0-7645-3974-9
Paperback
864 pages
October 2003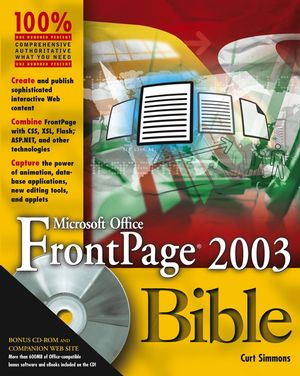 This title is out-of-print and not currently available for purchase from this site.
Other Available Formats:
E-book
Preface.
Acknowledgments.
Part I: FrontPage Essentials.
Chapter 1: Getting to Know FrontPage.
Chapter 2: Working with FrontPage Web Sites.
Chapter 3: Publishing and Maintaining Web Sites.
Chapter 4: Integrating FrontPage with Office Applications.
Part II: Designing Web Pages.
Chapter 5: Page and Text Formatting.
Chapter 6: Working with Layout: Tables and Layers.
Chapter 7: Designing Pages with Shared Borders and Frames.
Chapter 8: Editing HTML.
Part III: Organizing FrontPage Webs.
Chapter 9: Building Navigational Elements.
Chapter 10: Using FrontPage Themes.
Chapter 11: Working with Styles and Style Sheets.
Part IV: Working with Pictures, Animation, and Multimedia.
Chapter 12: Using Pictures.
Chapter 13: Using Animation Effects.
Chapter 14: Adding FrontPage Web Components.
Chapter 15: Embedding Components: Plug-Ins, ActiveX, and Java Applets.
Part V: Activating Web Pages.
Chapter 16: Designing Forms.
Chapter 17: Activating Forms.
Chapter 18: Client-Side Scripting: JavaScript and DHTML.
Chapter 19: Server-Side Programming: CGI and ASP.
Part VI: Data-Driven Web Sites.
Chapter 20: Working with Databases in FrontPage.
Chapter 21: Building a FrontPage Database Application.
Part VII: Advanced Topics.
Chapter 22: Developing Custom FrontPage Solutions.
Chapter 23: Web Server Administration.
Chapter 24: SharePoint Team Services Sites.
Chapter 25: Introduction to Microsoft InfoPath 2003.
Appendix A: What's New in FrontPage 2003?
Appendix B: Index of FrontPage Templates.
Appendix C: Best FrontPage Add-Ins and Resources.
Appendix D: What's on the CD-ROM.
End-User License Agreement.
Index.