Photography For Dummies, 2nd Edition
ISBN: 978-0-7645-4116-2
448 pages
October 2003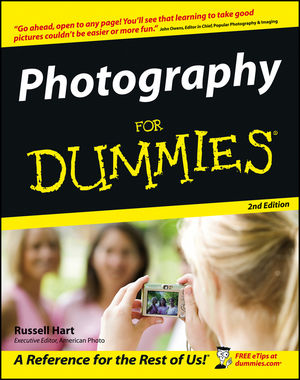 Your personal photographs have a worth that can't be measured in dollars and cents. They're likely the one thing you would grab on the way out of a burning house – an irreplaceable record of the life you lead, of friends and family, and of the occasions with which you mark passing years.
The funny thing is, most people aren't entirely happy with their photographs. And that's where Photography For Dummies comes in. You don't need a fancy camera with multiple, removable lenses to get good pictures. The problem is, nearly every book on photography assumes that you're using one. But this book assumes that you're using a point-and-shoot camera for all your pictures. In fact, this may be the most complete guide available for taking pictures with a modern point-and-shoot camera.
This revised edition of Photography For Dummies helps you choose film (much simpler than you'd think), load film into the camera (no big sweat), and understand how to hold the camera (yes, there are right and wrong ways). You'll also discover tips about dealing with your photofinisher – a far more important factor in getting good results than most people realize, especially in the digital age. What's more, you'll gain insight into
Working with your camera, and how different settings make your camera do different things
Understanding the importance of light in a photograph, and applying design strategies that make your subjects stand out
Getting shots that both flatter people and capture their personalities
Shooting landscapes, and the special considerations of travel photography
Taking pictures filmlessly, and the pleasures and pitfalls of digital photography
Troubleshooting your camera, and discovering what do try if it won't shoot
Today's point-and-shoot cameras are remarkably reliable devices. So why aren't your pictures better? The main secret to better photographs is knowing what to shoot, when to shoot it, and how to shoot it. You need Photography For Dummies, because it lets you in on this secret.
See More
Introduction.
Part I: What You Need to Take Pictures.
Chapter 1: Ladies and Gentlemen: Start Your Point-and-Shoots!
Chapter 2: How to Pick the Best Film.
Chapter 3: Making Your Photofinisher Work for You.
Part II: Working with Your Point-and-Shoot.
Chapter 4: Pictures à la Mode.
Chapter 5: Seeing through Your Camera.
Chapter 6: Focus Pocus: The Lens and Optical Magic.
Chapter 7: A Flash of Inspiration.
Chapter 8: Simplifying the Advanced Photo System.
Part III: The Art Part.
Chapter 9: Seeing the Light.
Chapter 10: Suitable for Framing: How to Compose a Good Photograph.
Part IV: Shoot to Thrill.
Chapter 11: Capturing Your Life: How to Keep a Photographic Diary.
Chapter 12: Capture the Action.
Chapter 13: Scene Stealing: Making Effective Landscape Photos.
Chapter 14: Have Camera, Will Travel.
Part V: The Digital Domain.
Chapter 15: Getting to Know Your Digital Point-and-Shoot.
Chapter 16: What to Do with Digital Pictures?
Part VI: The Part of Tens.
Chapter 17: Ten Things to Think about When Buying a Point-and-Shoot Camera.
Chapter 18: Ten Simple Ways to Make Your Pictures Better.
Chapter 19: Ten Great Places to Take Pictures.
Chapter 20: Ten Things to Try If Your Camera Won't Shoot.
Appendix A: Photospeak: A Short Glossary.
Appendix B: Manufacturers, Distributors, and Retailers.
Index.
See More
Technology Editor at American Photo magazine and a contributing editor to Popular Photography, Russell Hart has written about photography for The New York Times, Mens Journal, and Us magazines, and is the author of a number of books on photographic subjects.
See More
Buy Both and Save 25%!
Photography For Dummies, 2nd Edition (US $21.99)
-and- Sewing For Dummies, 3rd Edition (US $19.99)
Total List Price: US $41.98
Discounted Price: US $31.48 (Save: US $10.50)
Cannot be combined with any other offers. Learn more.