Audel Millwrights and Mechanics Guide, 5th Edition
ISBN: 978-0-7645-4171-1
1152 pages
January 2004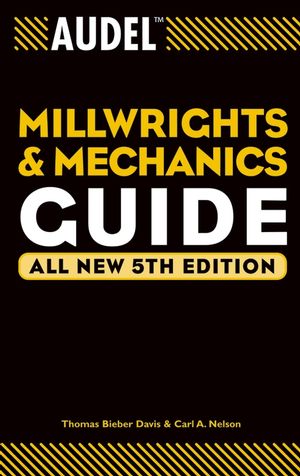 The hardcover, fully updated edition of the only multi-craft trade guide
Respected by generations of skilled workers, Audel Millwright's and Mechanic's Guide is the only trade manual to cover maintenance and troubleshooting for all the mechanical trades in a single volume. Now available in hardcover, it covers the newest equipment on shop floors as well as older machinery, sometimes more than 30 years old, for which little maintenance and repair information remains available. Millwrights, mechanics, machinists, carpenters, pipe fitters, electricians, engineers, and those who supervise them will find this book invaluable.
The only hardcover maintenance and repair manual to cover all the mechanical trades in one guide
This updated guide covers new industrial machinery as well as 30-year-old equipment for which little information can be found
Essential for those who repair machinery as well as machinists, carpenters, pipe fitters, electricians, millwrights, mechanics, engineers, mechanical technicians, industrial maintenance managers, and construction tradespeople
This hardcover edition of Audel Millwright's and Mechanic's Guide is as valuable to today's skilled workers as previous editions were to their fathers and grandfathers.
See More
Introduction v
About the Author vi
Chapter 1 Safety 1
Chapter 2 Drawing and Sketching 7
Chapter 3 The Basic Toolbox 49
Chapter 4 Portable Power Tools 59
Chapter 5 Stationary Power Tools 89
Chapter 6 Measurement 101
Chapter 7 Screw Threads 109
Chapter 8 Mechanical Fasteners 129
Chapter 9 Machinery and Equipment Installation 153
Chapter 10 Bearings 187
Chapter 11 Principles of Mechanical Power Transmission 245
Chapter 12 Shafting 253
Chapter 13 Flat Belts 263
Chapter 14 V-Belt Drives 293
Chapter 15 Chain Drives 323
Chapter 16 Gears 351
Chapter 17 Couplings 373
Chapter 18 Gaskets, Packings and Seals 409
Chapter 19 Lubrication and Oil Analysis 453
Chapter 20 Vibration Measurement 461
Chapter 21 Preventive and Predictive Maintenance 471
Chapter 22 Electricity 479
Chapter 23 AC Motors 495
Chapter 24 Fans and Blowers 509
Chapter 25 Pumps 523
Chapter 26 Air Compressors 551
Chapter 27 Pipe Fittings 589
Chapter 28 Pipe Valves 627
Chapter 29 Structural Steel 649
Chapter 30 Sheet-Metal Work 669
Chapter 31 Welding 693
Chapter 32 Sharpening Saws 749
Chapter 33 Wood Fastening 765
Chapter 34 Carpentry 805
Chapter 35 Blacksmithing 891
Chapter 36 Rigging 913
Chapter 37 Hydraulics and Pneumatics 987
Chapter 38 Mensuration and Mechanical Calculations 1015
Appendix 1039
List of Vendors 1071
Index 1075
See More
Thomas Bieber Davis is a mechanical engineer and trainer in preventive and predictive maintenance at all levels. He has also developed preventive maintenance products for industrial use.
Carl A. Nelson wrote numerous practical manuals for the mechanical trades, including earlier editions of this book, before his death in 1993.
See More
More in this series
Learn more about