The Shellcoder's Handbook: Discovering and Exploiting Security Holes
ISBN: 978-0-7645-4468-2
Paperback
644 pages
April 2004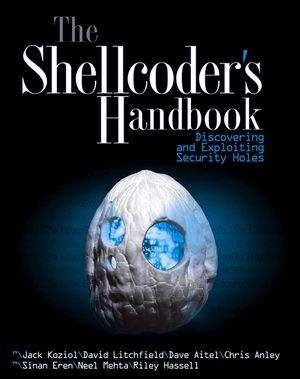 This title is out-of-print and not currently available for purchase from this site.
Jack Koziol,
the lead author of
The Shellcoder's Handbook,
is a Senior Instructor and Security Program Manager at InfoSec Institute, a provider of advanced ethical hacking training. He regularly is called upon to train members of the United States intelligence community, military, and federal law enforcement agencies. Additionally, Jack provides training for Fortune 500 companies, such as Microsoft, HP, and Citibank, on how to better secure their networks and applications. When not teaching hacking classes, Jack regularly performs penetration tests and application security assessments for a number of clients. He has years of private vulnerability development and exploitation experience for his customers and himself.
Jack is also the author of
Intrusion Detection with Snort,
one of the best-selling security books in its first year of publication (2003). The book has been translated into several languages, including French and Japanese, and has received rave reviews from
Linux Journal, Slashdot,
and
Information Security
magazine.
Jack has appeared in USA Today, CNN, MSNBC, First Business, and other media outlets for his expert opinions on information security. He lives in Oak Park, Illinois, in the shadow of Frank Lloyd Wright's home and studio, with his girlfriend Tracy and dog Quasi.
David Litchfield is the world's leading computer security vulnerability researcher and one of the five founding members of NGSSoftware. David has discovered and published over 100 major security vulnerabilities in many different products, including most notably Apache, Microsoft Internet Information Server, Oracle, and Microsoft SQL Server. With his vast experience of network and application penetration testing, David is a permanent presenter to the Black Hat Briefings. He is also the lead author of SQL Security (Osborne/ McGraw-Hill).
Dave Aitel is the author of SPIKE and the founder of the NYC-based Internet security company Immunity, Inc. His research has incorporated exploitation of both Windows and Unix vulnerabilities, and advanced methodologies for finding new vulnerabilities.
Chris Anley is a Director of Next Generation Security Software, a U.K.-based security consulting, research, and software company. Chris is actively involved in vulnerability research and has published several white papers and security advisories on a number of products, including PGP, Windows, SQL Server, and Oracle. He splits his time evenly between research, coding, consulting, and drinking, and hopes at some point to add sleeping to the list.
Sinan Eren is a security researcher based in the Bay Area. He has done extensive work regarding exploitation of Unix vulnerabilities, developed advanced and robust methodologies for exploiting Kernel-level holes, and found many high-profile bugs in commercial and open source Unix software.
Neel Mehta works as an application vulnerability researcher at ISS X-Force, and, like many other security researchers, comes from a reverse-engineering background. His reverse-engineering experience was cultivated through extensive consulting work in the copy protection field, and has more recently been focused on application security. Neel has done extensive research into binary and source-code auditing and has applied this knowledge to find many vulnerabilities in critical and widely deployed network applications.
Riley Hassell, a Senior Researcher Engineer at eEye Digital Security, is responsible for the design and implementation of eEye Digital Security's QA and research tool suite. He is responsible for the discovery of several highly exposed vulnerabilities released by eEye Digital Security.
More By These Authors