Visual Basic.Net Bible
ISBN: 978-0-7645-4826-0
Paperback
1272 pages
December 2001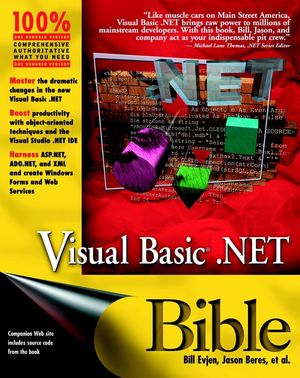 This title is out-of-print and not currently available for purchase from this site.
Bonus Content
Bonus Content
The Visual Basic .NET Bible is the essential must-have reference for any developer new to the .NET platform.
Starting with an introduction to the .NET Framework and leading into a complete language reference, Parts I and II of the Visual Basic .NET Bible are a must read for Visual Basic developers, new and old. The key aspects of Visual Basic .NET are covered, including object-oriented programming concepts, structured exception handling and multithreading.
Part III covers key concepts such as Visual Studio .NET, ADO.NET, and debugging. The Visual Studio .NET IDE is the best RAD tool ever made to efficiently create .NET applications. Using the new debugging capabilities, testing your code is more fun and exciting than ever. ADO.NET has been rewritten from the ground up, not only for enhanced performance, but also for ease of use and flexibility. This book will guide you through the changes.
Parts IV and V drill deep into ASP.NET and XML Web Services. ASP.NET is truly one of the authors' favorite aspects of .NET. Never before has developing Web-based applications been so easy. If you are used to writing event-driven code, you will be amazed at how easy it is to write event-driven, data-driven, Web-based applications using Visual Studio .NET and ASP.NET. XML Web Services are the wave of the future, and you won't be left behind with the full details on how you can develop Web Services and begin using them now in your applications.
Appendix A shows you how to handle our ever-expanding global community by using tools available in Visual Basic .NET and the .NET Framework to ensure that your applications work properly in various cultures. And if you're wondering what you'll do with those millions of lines of VB 4, 5, and 6 code, Appendix B tells you how to use the upgrade wizard to convert your code to Visual Basic .NET.
The authors really want to hear your opinions, so please feel free to e-mail Bill at evjen@yahoo.com or Jason at jasonberes@msn.com with comments or questions. If you are ever in the St. Louis, Missouri, or South Florida area, give us a shout or attend a User Group meeting and meet some of your peers.
St. Louis .NET User Group: www.stlnet.org
Florida .NET User Group: www.fladotnet.org
The VBNetBible.zip file, available on the downloads page, contains all the code from the Visual Basic® .NET Bible.
Links to .NET Web Sites