Windows Server 2003 Weekend Crash Course
ISBN: 978-0-7645-4925-0
432 pages
December 2002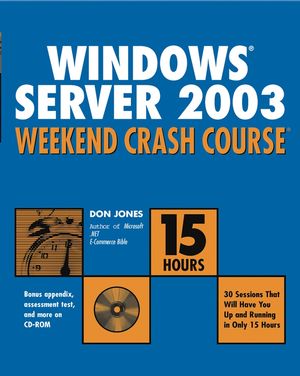 Focus: Book consists of 30 sessions that teach the core concepts of Windows .NET Server to Windows Administrators over a weekend. Covers the new features of the Windows .NET Server, including headless servers, Remote Desktop Services (RDS), and performance management. Learn how to implement Windows .NET Server as the base OS for the Microsoft .NET Framework and.NET Enterprise Servers, including SQL Server 2000 and Exchange 2000 Server. Covers Windows .NET Server's improvements to networking, Active Directory, usability, reliability, scalability, disaster recovery, management, and Internet integration as well as Windows basics and architecture; installing the Windows .NET Server; and managing server security.
Running example: A running example of a fictitious major international bank is used to demonstrate key concepts.
Windows interface tutorial on CD: For readers with no prior Windows experience at all, a Windows interface tutorial will be included as an appendix on the CD that accompanies the book.
WCC series features: Each session takes 30 minutes to complete. Four time-to-go icons gauge the reader's progress through any given session. "Quiz Yourself" questions (at the end of each session) and "Part Review" questions allow the reader to review what they have just learned. Skill assessment software on the CD-ROM helps readers gauge their skill level before and after reading this book.

ABOUT THE CD-ROM
The CD-ROM has skills assessment software based on the sessions in the book and an appendix on the Windows interface.
See More
Preface vii
Acknowledgements xi
Friday 2
Part I Friday Evening 4
Session 1 Windows Server 2003 Basics 5
Session 2 Installing windows Server 2003 19
Session 3 Managing Users and Groups 31
Session 4 Using Active Directory 43
Saturday 56
Part II Saturday Morning 58
Session 5 Managing Disks, Files, and File Systems 59
Session 6 Managing File Sharing and File Security 69
Session 7 Managing the Distributed File System 81
Session 8 Advanced File Management 91
Session 9 Managing Printers and Faxes 103
Session 10 Managing Terminal Services 113
Part III Saturday Afternoon 128
Session 11 Configuring Security Policies 129
Session 12 Using the Security Configuration Manager 141
Session 13 Networking with YCP/IP 153
Session 14 Managing the Domain Name System Service 165
Session 15 Managing the Windows Internet Name System Service 175
Session 16 Managing the Dynamic Host Configuration Protocol 185
Part IV Saturday Evening 198
Session 17 Managing Internet Information services 199
Session 18 Managing Web Sites 209
Session 19 Managing Routing and Remote Access Services 219
Session 20 Managing the Internet Authentication Service 229
Sunday 244
Part V Sunday Morning 246
Session 21 Managing Virtual Private Networks 247
Session 22 Managing Advanced Network Services 259
Session 23 Using Network Monitor 271
Session 24 Performing Disaster Recovery Operations 285
Session 25 Managing Hardware 293
Session 26 Managing and Maintaining Servers 303
Part VI Sunday Afternoon 316
Session 27 Working with Windows Clusters 317
Session 28 Managing Certificate Services 329
Session 29 Understanding Performance Management 341
Session 30 Performance Tuning and Optimization 353
Part VII Appendixes 362
Appendix A What's on the CD-ROM 363
Appendix B Answers to Part Reviews 367
Index 381
End-User Agreement 404
See More
Don Jones (Carson City, NV) is a computer consultant specializing in Microsoft products and solutions. He is a frequent speaker at Microsoft conferences and participates in the Microsoft Certified Professional Exam development process. Don has worked for 2 "Dot Coms," developing their e-commerce initiatives. He is also the author of the Microsoft.NET E-Commerce Bible (HMI, July 2001) and Microsoft Application Center 2000 Configuration and Administration (HMI, Nov.2001). He also co-authored E-Commerce for Dummies (HMI, August 2001). Since Don lives in a "recreational vehicle," he moves around often. Currently, he is in Las Vegas.
See More