Home Improvement For Dummies
ISBN: 978-0-7645-5005-8
456 pages
January 2002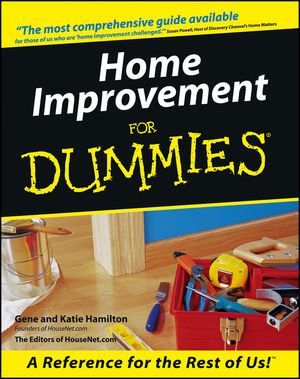 All home improvements don't require a contractor. Installing a smoke detector, painting a room, and unclogging a sink are all home improvements. In fact, doing the job yourself is often cheaper and always more rewarding. There's no mystery to home repair. The most important tool you need to make home repairs is know-how—to fix the problem at hand and to buy the other tools and hardware you'll need!
Home Improvement For Dummies is a whole-house repair manual for everyone from fledgling do-it-yourselfers to seasoned handymen and women. This anybody-can-do-it approach will help you with a repair that needs fixing right away or get you started on a project you've been planning. This book is for you if you need advice on these topics and more:
Painting and decorating
Carpentry
Plumbing and electrical
Outside repairs
Building shelves
Tiling
Insulating
Calculate how much a repair will cost you, and know when to hire a pro. With clear illustrations that walk you, step by step, through projects,
Home Improvement For Dummies
helps you:
Refinish and stain wood
Repair squeaky stairs
Install floor tiles
Improve your home's energy efficiency
Maintain and upgrade plumbing
Install an outdoor sprinkler system
Install a ceiling fan
Maintain central air conditioning and heating
Whether you just have a few pesky projects you want to fix quickly or you want to become a home-improvement expert, this easy-to-follow guide gives you everything you will ever need to know. A helpful appendix is packed with online resources that let you network with other do-it-yourselfers.
See More
Introduction.

PART I: Getting Down to Business.

Chapter 1: The Biggest Room in Your House.

Chapter 2: Do It Yourself or Hire a Pro?

Chapter 3: Gearing Up for Your Home Improvement Adventures.

PART II: Painting and Decorating.

Chapter 4: Interior Painting: A Quick Facelift for Your Rooms.

Chapter 5: Exterior Painting: Now That's a House of a Different Color!

Chapter 6: Refinishing and Staining Wood.

Chapter 7: Wallpapering Projects.

PART III: The Nuts and Bolts of Carpentry.

Chapter 8: Walking the Floor Over You.

Chapter 9: Windows Don't Have to Be a Pane.

Chapter 10: Doors: An Open and Shut Case.

PART IV: Plumbing and Electricity.

Chapter 11: Becoming Your Own Plumber.

Chapter 12: Maintaining and Upgrading Plumbing Appliances.

Chapter 13: Light Up Your Life with Electrical Repairs and Replacements.

Chapter 14: Maintaining and Upgrading Electrical Appliances.

PART V: Improvements Inside and Out.

Chapter 15: Inside Repairs and Improvements.

Chapter 16: Outside Repairs and Improvements.

PART VI: The Part of Tens.

Chapter 17: Ten Ways to Avoid Common Painting Mistakes.

Chapter 18: Ten Important Ways to Burglar-Proof Your House.

Chapter 19: Ten Great Ways to Save Energy.

Chapter 20: Ten Things to Remember When You're Hiring a Contractor.

Chapter 21: Ten Ways to Make Your Home Safer and More Accessible.

Chapter 22: Ten Ways to Kid-Proof Your Home.

Chapter 23: Ten Quick Fixes to Transform Any Room.

Appendix: Home Improvement Help Online.

Index.

Book Registration Information.
See More
Gene and Katie Hamilton write the syndicated "Do it Yourself . . . or Not?" newspaper column and are authors of For Dummies guides to carpentry, painting & wallpapering, and plumbing.
See More