Getting Results For Dummies
ISBN: 978-0-7645-5205-2
280 pages
December 1999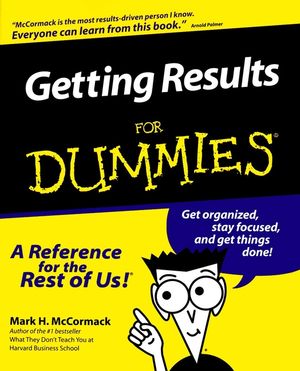 With each new high-tech gadget that creeps into our lives, the demands on our time and attention only seem to multiply. Staying on top of things was hard enough before cell phones, the Internet and wireless remote devices. Now most of us spend our days in a fever dream of conflicting demands, missed deadlines and lost details. But the situation isn't hopeless.   Written by bestselling author and entrepreneur, Mark McCormack,
Getting Results For Dummies
helps you get a grip.
Want to get more done in less time and with less stress—at home and at work? This book can show you how. With Mark as your guide, you'll:
Set priorities and stay focused
Master low-tech organizational tools
Get a grip on email and high-tech toys
Cut through clutter
Say "no" nicely—and mean it!
Never again have to apologize for missed deadlines
Maximize your most precious resource—time
Using the proven time-management strategies described in this book, you'll accomplish more than you ever thought possible, and have more time for your family and leisure activities. With a minimal investment of time you'll discover how to:
Get a handle on overwhelming situations
Set goals and create a workable plan
Become mentally organized
Get paperwork under control
Make email and the Internet your friends
Create storage solutions
Organize your home and your money
Schedule your time and avoid time bandits
Making your goals contagious and getting others to cooperate
Life is too short to waste it in a fog of anxiety and confusion. Let Getting Results For Dummies show you how to get organized and improve every aspect of your quality of life.
See More
Introduction.

PART I: Getting Results in Any Arena.

Chapter 1: The Basics of Getting Results.

Chapter 2: Eating the Elephant One Bite at a Time.

Chapter 3: The Toughest Space to Harness: The Six Inches between Your Ears.

Chapter 4: Taking the Leap.

PART II: Getting Organized.

Chapter 5: The Value of Being Organized.

Chapter 6: Learning to Love Low-Tech.

Chapter 7: The Perils of Paperwork and Data.

Chapter 8: How Much Stuff Do You Really Need?

Chapter 9: Making E-Mail and the Internet Your Friends.

Chapter 10: Creating Storage Solutions.

Chapter 11: Organizing Your Home.

Chapter 12: Dollars and Sense: Organizing Money.

PART III: Time Is on your Side.

Chapter 13: Time: The Unrecoverable Asset.

Chapter 14: Beware the Time Bandits.

Chapter 15: Mastering the Fine Art of Saying "No".

Chapter 16: Scheduling Your Time.

Chapter 17: Scheduling the Unschedulable.

Chapter 18: Planning for the Long Term.

PART IV: The Finer Points.

Chapter 19: Results Aren't Everything, They're the Only Thing.

Chapter 20: Redefining Yourself.

Chapter 21: Making Your Goals Contagious.

Chapter 22: Pulling Others Along for the Ride.

PART V: The Part of Tens.

Chapter 23: Ten Traits of Achievers.

Chapter 24: Ten Drills to Improve Your Results.

Chapter 25: Ten Results-Oriented Questions to Ask Yourself.

Chapter 26: Ten Tasks That Don't Need to Be Done Perfectly.

Chapter 27: Ten Ways to Keep Clutter from Accumulating.

Chapter 28: Ten Excuses of Disorganized People.

Chapter 29: Ten Traits to Avoid at All Costs.

Chapter 30: Ten Great Ways to Start Your Business Day.

Index.

Book Registration Information.
See More
Mark H. McCormack is the founder and chairman of the world's largest sports marketing organization, International Management Group, which represents many well-known athletes and events.
See More