Business Contracts Kit For Dummies
ISBN: 978-0-7645-5236-6
360 pages
April 2000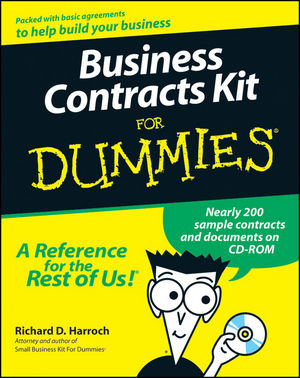 If you think that hard work and good decision-making are the only keys to running a successful business, think again. Although these issues are critical in any business endeavor, in reality it is the paperwork that is key to creating and maintaining your business. That's right, paperwork! From employee contracts to real estate leases, these and other legal documents are incredibly important, but can be difficult to decipher.
If you're a business owner who is not a legal expert, Business Contracts Kit For Dummies will provide you with advice, forms, and contracts that will allow you to clearly spell out your business intentions to employees, vendors, and customers.  Even if you've been in business for a while or are a legal expert,  you can still benefit from this book by using the nearly 200 sample contracts and documents contained on the companion CD-ROM.
Using jargon-free language, this easy-to-use guide will introduce you to the basics of contracts and show you how to draft a variety of other legal documents. Business Contracts Kit For Dummies also covers the following topics and much more:
Forms for businesses big and small
Understanding the essentials of contracts
Incorporating your business
Drafting employment contracts
Conquering leases, licenses, and loans
Tackling Web agreements
Avoiding common contract mistakes
This unique kit is just what you need to make business agreements more agreeable. And, best of all, it gives you dozens of sample contracts on the companion CD-ROM that you can use right away! Nearly 200 examples, checklists, and fill-in-the-blank contracts are all a mouse click away, including articles of incorporation, independent contractor agreements, checklists for office leases, software license agreements, confidentiality agreements, and much more. Business Contracts Kit For Dummies will show you how to cover your assets without making it a full-time job.
Note: CD-ROM/DVD and other supplementary materials are not included as part of eBook file.
See More
Introduction.

PART I: The Basics.

Chapter 1: Contract Essentials.

Chapter 2: Contract Drafting Tips.

Chapter 3: Boilerplate.

PART II: Forms for Businesses Big and Small.

Chapter 4: Incorporation Forms and Agreements.

Chapter 5: Stock Purchase Agreements.

Chapter 6: Buying a Business.

Chapter 7: Employment Agreements and Forms.

Chapter 8: Rewarding and Managing Employees.

Chapter 9: Independent Contractor and Consultant Agreements.

PART III: Money: Leases, Licenses, and Loans (Oh My!).

Chapter 10: Real Estate Leases.

Chapter 11: License Agreements.

Chapter 12: Promissory Notes and Loan Agreements.

Chapter 13: Sales and Service Contracts and Forms.

Chapter 14: Confidentiality and Non-Disclosure Agreements.

PART IV: The Brave New World of the Web.

Chapter 15: Contracts Related to Web Site Creation.

Chapter 16: Contracts and Policies Related to Web Site Operation.

PART V: The Part of Tens.

Chapter 17: Top Ten Agreement Drafting Mistakes.

Chapter 18: Ten Great Resources for Contracts and Forms.

Chapter 19: Ten Key Contracts for Small and Growing Businesses.

Appendix: About the CD.

Index.

End-User License Agreement.

Installation Instructions.
See More
Richard D. Harroch, a partner at a law firm, works extensively with startup and emerging companies. His books include the Wall Street Journal bestseller Small Business Kit For Dummies.
See More