Golden Retrievers For Dummies
ISBN: 978-0-7645-5267-0
288 pages
October 2000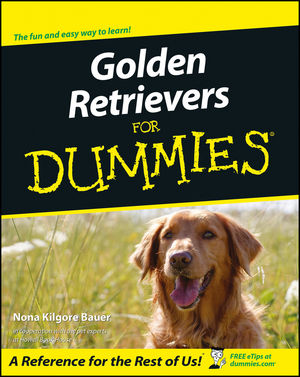 For the past decade, the Golden Retriever has ranked among the five most popular breeds registered with the AKC, with more than 65,000 Goldens registered every year. The Golden Retriever's personality is as golden as his outer coat. He was bred to please, and please he does. He started out as a hunting partner who delivered birds to hand and has evolved into modern times delivering whatever suits his owner's fancy. Because Golden Retrievers were originally bred to work in tandem with humans, they are also highly trainable.
Golden Retrievers For Dummies is intended for busy 21st century dog owners who don't have time to sit down and read through 300 pages at a crack. This is a reference you can jump in and out of as dog questions rear their furry heads. This handy guide is also for you if
You own a Golden Retriever or thinking about getting one.
You've just brought home a Golden pup.
You want to find the best way to raise and train your Golden.
You want to help your Golde n to not just survive but to thrive.
Find out what it takes to own this active, intelligent, and friendly dog. Explore the Golden's personality traits and living requirements. Discover which diseases are hereditary. This reference guide covers all the aspects of dog ownership, including:
Looking at breeders, rescue groups, and animal shelters
Adopting and caring for older dogs
Selecting a puppy with help from an established testing process
Dog-proofing your house and yard
Crate training, housetraining, and obedience training
Canine communication and growing pains
Feeding, exercising, and playing with your Golden
Dealing with illness, problem behavior, and treatment
Grooming for health and beauty
If you're serious about this Golden business and not just caving in to the kids or some other wild impulse, follow the advice of responsible dog owners and breeders. Look deep into your dog-loving soul and carefully consider the big picture. Love alone is not enough.
See More
Introduction.

PART I: Finding Your Soul Mate.

Chapter 1: Are You Meant for Each Other?

Chapter 2: Knowing What to Look for in the Breed.

Chapter 3: Finding a Golden Breeder.

Chapter 4: Selecting Your Special Puppy.

PART II: Welcome Home!

Chapter 5: Setting Out the Welcome Mat.

Chapter 6: Welcoming Your Puppy Home.

Chapter 7: Crate Training and Housetraining.

Chapter 8: Canine Communication and Growing Pains.

Chapter 9: Home Schooling Your Golden Puppy.

PART III: Keeping Your Pal Healthy and Happy.

Chapter 10: Healthy Habits: Nutrition and Exercise.

Chapter 11: Golden Health Care 101.

Chapter 12: The Ins and Outs of Bugs and Worms.

Chapter 13: Golden Grooming Basics.

Chapter 14: Caring for Your Senior Golden.

Chapter 15: Hereditary Disease.

Chapter 16: Problem Behaviors and Aggression.

PART IV: The Part of Tens.

Chapter 17: Ten Great Games to Play with Your Puppy.

Chapter 18: Ten Internet Web Sites for the Golden Retriever Believer.

Chapter 19: Ten Things in Your Golden Retriever's Bag of Tricks.

Chapter 20: Ten Ways to Help Your Golden Live a Longer and More Golden Life.

Index.

Book Registration Information.
See More
Nona Kilgore Bauer has shared her life with Goldens for more than 30 years. Her dogs have won many obedience and other working titles.
See More