Cockatiels For Dummies
ISBN: 978-0-7645-5311-0
224 pages
June 2001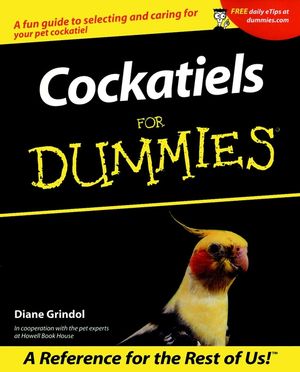 Natural-born charmers, cockatiels are small colorful parrots native to the Australian desert. When raised by people, they're usually calm and cuddly and have an inquisitive, adventurous disposition. Cockatiels are just large enough to be handled easily, but they're not so big that they require a great deal of space in your home. And while the cockatiel's gentle nature and captivating personality encourage you to form close and lasting relationships with them, taking one into your life brings with it a host of specific requirements and responsibilities that you really need to be aware of before you take the leap into being a cockatiel owner.
Written by a leading national expert on companion birds and a lifelong cockatiel owner and breeder, Cockatiels For Dummies is your total guide to adopting, caring for, and forming a loving relationship with one or more of these diminutive parrots. It gets you up to speed on how to:
Decide if a cockatiel is right for you and your family
Select a healthy cockatiel
Provide a suitable indoor environment
Supply a satisfying and nutritious diet for your pet
Train your cockatiel
Communicate with your bird through body language
Interpret your bird's moods
Breed cockatiels for fun and profit
Author Diane Grindol provides loads of sensible, easy-to-follow advice along with fun facts, trivia, amusing and informative anecdotes, and tips on how to have a great time with your feathered friend. Among other important topics, she fills you in on what you need to know about:
The pros and cons of pet stores versus breeders when choosing a cockatiel
Assessing a bird's health and disposition and getting a health guarantee
Feeding, grooming, caring for, and socializing your pet
Exercising your cockatiel
Training your bird to be a great companion
Keeping your little pal happy and healthy for life
A fun guide for you and your cockatiel, Cockatiels For Dummies is the only book you'll need to help you have the best possible experience with this smart, perky, incredibly loveable avian breed.
See More
Introduction.

PART I: So You Think You'll Get a Cockatiel.

Chapter 1: Living with a Personable Pet Cockatiel.

Chapter 2: Choosing Your Own Cockatiel.

PART II: Cockatiel Care.

Chapter 3: Home Tweet Home.

Chapter 4: Eating Like a Bird.

Chapter 5: Getting Things for Your Cockatiel.

Chapter 6: Trimming and Grooming.

Chapter 7: Freedom! Time Outside the Cage.

Chapter 8: Vacationing with or without Your Cockatiel.

PART III: Behavior and Training.

Chapter 9: Understanding Normal Cockatiel Behaviors.

Chapter 10: Training Your Cockatiel to Be an Outstanding Companion.

Chapter 11: What to Do about Problem Behaviors.

PART IV: Keeping Cockatiels Healthy.

Chapter 12: Coming to the Rescue.

Chapter 13: Lifelong Health Care.

PART V: The Part of Tens.

Chapter 14: Ten Mistakes That Spoil Cockatiel Ownership.

Chapter 15: Ten New Year's Resolutions.

Index.

Book Registration Information.
See More
Diane Grindol is a columnist for Bird Talk magazine. She holds educational seminars for companion bird owners and speaks regularly at bird clubs and avian events throughout the United States.
See More