The Exercise Training Diary For Dummies
ISBN: 978-0-7645-5337-0
216 pages
February 2001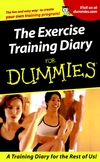 The Exercise Training Diary For Dummies will get fitness enthusiasts to gear up even more. It includes a 52-week, fill-in calendar you can use to schedule workouts and record progress, plus helpful advice on a full range of health topics.
See More
Introduction.

PART I: The Training Basics.

Chapter 1: Creating Your Workout Plan.

Chapter 2: Just Warming Up.

Chapter 3: Choosing the Right Workout.

Chapter 4: Cooling Down and Fueling Up.

PART II: The Exercise Training Diary.

Your Training Diary.

PART III: The Part of Tens.

Chapter 5: Ten Top Exercise Etiquette Tips.

Chapter 6: Ten Top Exercise Songs.

Index.

Book Registration Information.
See More
About the Author Allen St. John is the author of Bicycling For Dummies and Skiing For Dummies and is a former senior editor at Conde Nast Women's Sports and Fitness magazine. An avid recreational athlete, he has written about sports and fitness for a wide variety of national newspapers and magazines including Men's Journal, MH-18, U.S. News & World Report, Maxim, and the New York Times. He's a columnist for Skiing magazine, a regular contributor to Tennis, and a founding contributing editor for Bike, and he has covered the New York Yankees for the Village Voice for the past eight seasons, as well as contributed to the hardcover book and CD-ROM, The Way Baseball Works. He lives in Upper Montclair, New Jersey, with his wife Sally and two children, Ethan and Emma.
See More