Vocabulary For Dummies
ISBN: 978-0-7645-5393-6
360 pages
December 2001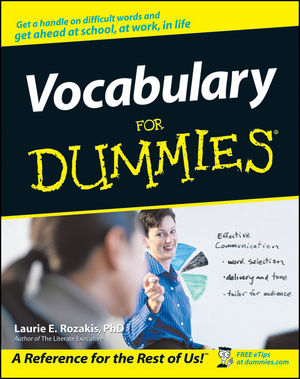 Someone just called you captious. Should you be flattered? Considering your extreme lactose intolerance, is it a good idea to order
veau au béchamel
from a French menu? Calumny is to slander as obloquy is to a) flattery, b) sermon, or c) invective? You've just heard that your new boss is a real martinet, should you be worried or excited about an attractive new addition to your workplace?
Your boyfriend says you have no élan, is he telling you you're all out of yogurt? Starting to wish you'd paid more attention in English class? Don't worry, it's never too late to develop a million dollar vocabulary—and Vocabulary For Dummies offers you a fast, fun and easy way to do it.
Whether you're facing standardized tests, or you want to feel more knowledgeable at work or more comfortable in social situations, this book is for you. In no time you'll:
Dramatically expand your vocabulary
Speak with style
Write with panache
Make a better impression a work or school
Dine out with confidence
Have the right words for formal occasions and ethnic events
Get more out of what you read
Vocabulary For Dummies doesn't overwhelm you with endless word lists. Instead, it gives you a complete vocabulary-building program that familiarizes you with words from all areas of life as they're used in context—from bar mitzvahs to business meetings, PCs to politics—with a host of fun features, including:
Word tables organized by common features, such as language of origin, professional or social contexts, similarities, and more
Sample conversations incorporate new terms and define related ones
Before-and-After examples show how to replace old, general terms with new specific vocabulary
Pointers reinforce understanding with examples of correct and incorrect usage
Chapters on terms from finance, law, medicine, eating and shopping, history and mythology, various languages, and more
Vocabulary For Dummies makes it easier than ever for you to get a handle on difficult words and get ahead at school, at work, and in life.
See More
Introduction 1
Part 1: Getting Your Bearings 7
Chapter 1: figuring out how words work 9
Chapter 2 Building your vocabulary 17
Chapter 3 Picking up meaning 37
Chapter 4 Using the right word 51
Part II: Mastering the Basics 63
Chapter 5: Getting to the root of the matter 65
Chapter 6: Starting off with prefixes 81
Chapter 7: Ending well: Suffixes 101
Part III: Expanding Your Base 119
Chapter 8: Shading meaning: Synonyms, Antonyms, Connotations, Denotations 121
Chapter 9: Hear your homonyms and homophones here 131
Chapter 10: Compounding words 151
Chapter 11: Romancing English: Words from French, Spanish, and Italian 167
Chapter 12: Borrowing from the neighbors: Words from other languages 183
Part IV: Getting Savvy with Vocabulary 197
Chapter 13: Trying your skills on standardized tests 199
Chapter 14: Taking care business vocabulary 215
Chapter 15: Mutterings on money matters 227
Chapter 16: Speaking legalese 237
Chapter 17: Doctoring your words: Medical terms 251
Chapter 18: Acquiring shopping and eating language 263
Chapter 19: Expanding the language: Recent additions 273
Chapter 20: Exploring words from real and mythical people and places 287
Part V: The Part of Tens 301
Chapter 21: Don't go there: Language to Avoid 303
Chapter 22: Distinctions worth making 307
Chapter 23: Ten techniques for nonnative speakers 315
Index 321
See More
Laurie E. Rozakis, PhD, teaches English at the State University of New York, Farmingdale, and is the author of more than 100 books.
See More