Alan Simpson's Windows XP Bible, Desktop Edition
ISBN: 978-0-7645-5722-4
720 pages
March 2004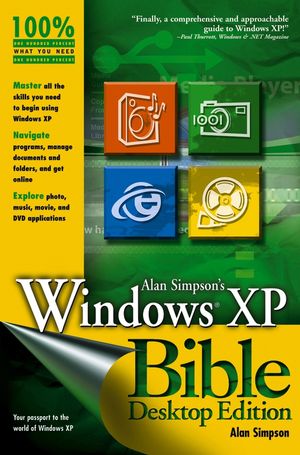 Focusing on Windows XP functionality, this Bible is value-packed and covers the basics (e.g., navigating a computer) as well as how to use the most popular Internet features; customize the work environment; maintain and tweak the system; use general techniques for working with text, numbers, and graphics. The Desktop Edition offers the very best content from the Windows XP Bible, combined with new coverage of Media Player, Movie Maker, and Service Pack 1, and features sidebars with annoyances, workarounds, solutions, and tips.
See More
Acknowledgments ix
Introduction xxix
Part I: Beginner's Crash Course 1
Chapter 1: Getting Started 3
Chapter 2: Workin' It 23
Chapter 3: Getting Help When You Need It 41
Part II: Programs, Documents, and Folders 55
Chapter 4: Running Programs 57
Chapter 5: Navigating Your Folders 75
Chapter 6: Working with Documents 99
Chapter 7: Type, Edit, Copy, and Paste 123
Chapter 8: Printing and Faxing Documents 141
Part III: Using the Internet 161
Chapter 9: Getting Online 63
Chapter 10: Browsing the World Wide Web 173
Chapter 11: Sending and Receiving E-mail 209
Chapter 12: Using a .NET Passport 245
Chapter 13: Keeping It Safe 283
Part IV: Fun with Multimedia 301
Chapter 14: Using Your Camera and Scanner 303
Chapter 15: Playing with Pictures 319
Chapter 16: Music and Video with Media Player 9 333
Chapter 17: Managing Music, Making CDs 359
Chapter 18: Making Home Movies 383
Part V: Getting Organized, Staying Organized 417
Chapter 19: Managing Files and Folders 419
Chapter 20: Using Your Hard Disk 447
Chapter 21: Using Floppies, CDs, and DVDs 477
Chapter 22: Working with Compressed (Zip) Files 501
Part VI: Have It Your Way 513
Chapter 23: Creating and Managing User Accounts 515
Chapter 24: Personalizing Your Desktop 533
Chapter 25: Expanding Your System 561
Chapter 26: Disaster Prevention and Recovery 577
Part VII: Connecting Your Computers 591
Chapter 27: Design and Create Your Own Network 593
Chapter 28: Sharing Things on a Network 613
Appendix A: Installing Windows XP 627
Appendix B: Shortcut Key Quick Reference 633
Index 639
See More
Alan Simpson is the author of more than 90 computer books, on topics ranging from Windows to word processing and Web-page design to databases. His books have been translated into more than a dozen languages and have sold millions of copies throughout the world. Prior to becoming a full-time author, Alan taught computer science at the college level and served as a computerized training consultant to the U.S. Air Force and U.S. Navy.
See More