Audel Managing Maintenance Storerooms
ISBN: 978-0-7645-5767-5
264 pages
August 2004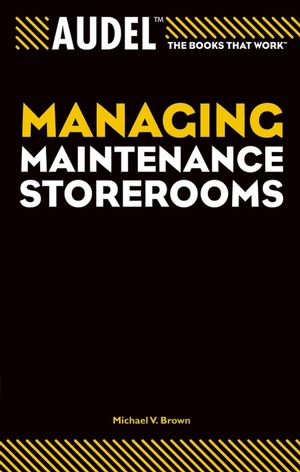 Manage to save time and money

A properly managed storeroom is the difference between having parts when you need them and spending too much time and money getting them when the need becomes critical. This book shows you how to plan, equip, stock, catalog, and manage a storeroom that will benefit both your workers and the company. Discover cost-effective ways to maintain essential stock, how to conduct audits, and even ways to negotiate better prices.
* Choose the most practical site, storage system, lighting, and security
* Plan what parts you need, when they should arrive, and how best to catalog them
* Set standards and balance quality and price
* Plan an efficient physical layout and organize your storeroom to balance space limitations against shelving cost
* Establish an inventory system that works
* Learn what you need to know about purchasing laws, contracts, warranties, and ethical practices
See More
About the Author.
Introduction.
Chapter 1. Maintenance Materials Management.
Chapter 2. Storeroom Layout and Stocking Methods.
Chapter 3. Inventory and Control Procedures.
Chapter 4. Storeroom and Inventory Control Improvements.
Chapter 5. Storeroom Measurements.
Chapter 6. Computerized Inventory Management Systems.
Chapter 7. Purchasing for the Storeroom.
Appendix A: Item Description Examples.
Appendix B: Maintenance Policy and Procedures.
Appendix C: Skill Requirements for Storekeepers.
Appendix D: Unit Abbreviations.
Index.
See More
Michael V. Brown is founder and President of New Standard Institute, a management consulting and training service that counts Shell, Merck, Coors, Kraft, and Southern Company among its clients. He has designed and implemented storeroom management, computerization, and modernization programs for numerous organizations.
See More
More in this series