Textbook
Catering: A Guide to Managing a Successful Business Operation
ISBN: 978-0-7645-5798-9
368 pages
February 2008, ©2008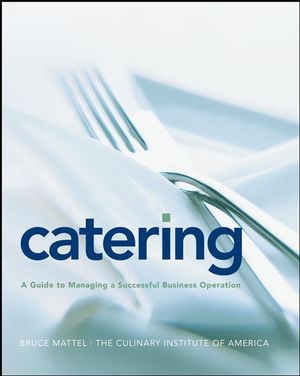 In this invaluable reference, The Culinary Institute of America provides all the information that caterers and would-be caterers need to set up and run a successful catering business of any kind. From launching the business, establishing pricing, setting up a kitchen, staffing, and marketing to planning events, organizing service, preparing food, managing the dining room and beverages, and developing menus, it provides detailed guidance on every aspect of the catering business, showing operators how to troubleshoot and creatively solve problems. Illustrated throughout with 50 photographs and 30 black-and-white illustrations, Catering is an indispensable guide for anyone who wants to succeed in this highly competitive field.
See More
Chapter 1: Introduction to Catering.
Chapter 2: Starting Your Catering Business.
Chapter 3: Pricing for Profit.
Chapter 4: Setting Up the Catering Kitchen.
Chapter 5: Staffing.
Chapter 6: Marketing.
Chapter 7: Event Planning .
Chapter 8: How Can We Serve You?
Chapter 9: Food Preparation and Service.
Chapter 10: Dining Room and Beverage Management.
Chapter 11: Sample Menus and Service.
See More
Bruce Mattel is an associate professor in culinary arts at The Culinary Institute of America, where he teaches advanced garde manger in the college's degree programs. Chef Mattel graduated from the CIA with honors in 1980 and worked as a chef at several notable restaurants, including the Coq d'Or, Le Bernardin, and Prunelle. Prior to joining the CIA faculty, he was chef and owner of Custom Cuisine, a catering company and gourmet shop in Tarrytown, New York.
Founded in 1946, The Culinary Institute of America is an independent, not-for-profit college offering bachelor's and associate degree programs in culinary arts and baking and pastry arts. A network of more than 37,000 alumni in food service and hospitality has helped the CIA earn its reputation as the world's premier culinary college. Courses for food service professionals are offered at the college's main campus in Hyde Park, New York, and at The Culinary Institute of America at Greystone, in St. Helena, California. Greystone also offers baking and pastry arts, accelerated culinary arts, and professional wine certifications.
See More
Includes expert advice from the nation's top culinary school on all aspects of both on-site and off-site catering
Provides detailed information on the techniques for setting up and running a catering business, including pricing, staffing, marketing, menu planning, organizing service, and much more
Illustrated throughout with 50 photos, as well as sample menus, resumes, blueprints for setting up events, and other sample materials drawn from real-life catering operations
See More
Instructors Resources
Request a print evaluation copy
Contact us

Contact your Wiley Representative
Find Your Rep

See More
See Less
Learn more about