Scanners For Dummies, 2nd Edition
ISBN: 978-0-7645-6790-2
336 pages
May 2004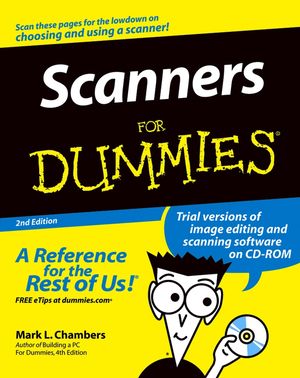 Fully updated to cover new hardware and technology

Here's how to choose a scanner, set it up, and start capturing images

Flatbed or sheet-fed? USB or FireWire? And what the heck is a dpi, anyway? This handy guide tells you all that and more - everything you need to know to get the most use, and fun, out of your scanner. Choose the right image editing software, share photos online, even get the scoop on tricks the experts use.

All this on the bonus CD-ROM
* Evaluation versions of Paint Shop Pro and Photo Album
* Adobe Photoshop Elements and Acrobat Professional tryout versions
* Mac GraphicConverter and VueScan trial versions
* SnapCopier(TM) and Ulead PhotoImpact XL trial versions


Discover how to:
* Buy the right scanner for your needs
* Choose your software
* Fine-tune your scans
* Select and install extra equipment
* Edit images like a pro
* Keep your scanner happy and healthy
See More
Introduction.
Part I: The Scam on Scanners.
Chapter 1: Let's Get Digitized!
Chapter 2: The Joys of Buying a Scanner.
Part II: Surviving the Installation.
Chapter 3: "Will That Be Parallel, USB, or FireWire?"
Chapter 4: And Then There's SCSI.
Chapter 5: Installing the Extra Stuff.
Part III: Bread-and-Butter Scanning.
Chapter 6: Just Plain, Basic Scanning.
Chapter 7: Examining Your Original: The Sequel.
Chapter 8: Attack of the Fine-Tuning Monster.
Chapter 9: Image Editing the Easy Way.
Part IV: The Lazy Expert's Guide to Advanced Scanning.
Chapter 10: So You Want to Be an Internet Graphics Guru.
Chapter 11: Advanced Image Editing 101.
Chapter 12: Maintaining the Scanner Beast.
Chapter 13: Scanner Projects for Crafty People.
Part V: The Part of Tens.
Chapter 14: Ten Tips and Tricks for Better Scanning and Editing.
Chapter 15: Ten Things to Avoid Like the Plague.
Chapter 16: Ten Signs of a Good Scan.
Chapter 17: Ten Favorite Effects.
Part VI: Appendixes.
Appendix A: Scanner Hardware and Software Manufacturers.
Appendix B: Glossary.
Appendix C: About the CD.
Index.
End-User License Agreement.
See More
Mark L. Chambers has been a computer consultant, programmer, hardware technician, tech editor, and author for more than 20 years. He has written over 15 computer books.
See More