Organic Chemistry I For Dummies
ISBN: 978-0-7645-6902-9
408 pages
July 2005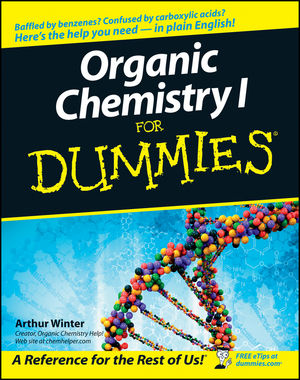 A plain-English guide to one of the toughest science courses around
Organic chemistry is rated among the most difficult courses that students take and is frequently the cause of washout among pre-med, medical, and nursing students. This book is an easy-to-understand and fun reference to this challenging subject. It explains the principles of organic chemistry in simple terms and includes worked-out problems to help readers get up to speed on the basics.
See More
Introduction.
Part I: Going Organic: The Chemistry of Carbon.
Chapter 1: The Wonderful World of Organic Chemistry.
Chapter 2: Dissecting Atoms: Atomic Structure and Bonding.
Chapter 3: Speaking with Pictures: Drawing Structures.
Chapter 4: Covering the Bases (And the Acids).
Chapter 5: Reactivity Centers: Functional Groups.
Chapter 6: Seeing in 3-D: Stereochemistry.3
Part II: Hydrocarbons.
Chapter 7: The Bones of Organic Molecules: The Alkanes.
Chapter 8: Seeing Double: The Alkenes.
Chapter 9: It Takes Alkynes: The Carbon-Carbon Triple Bond.
Part III: Functional Groups.
Chapter 10: Replacing and Removing: Substitution and Elimination Reactions.
Chapter 11: Getting Drunk on Organic Molecules: The Alcohols.
Chapter 12: Side-By-Side: Conjugated Alkenes and the Diels-Alder Reaction.
Chapter 13: Lord of the Rings: Aromatic Compounds.
Part IV: Spectroscopy and Structure Determination.
Chapter 14: A Smashing Time: Mass Spectrometry.
Chapter 15: Seeing Good Vibrations: IR Spectroscopy.
Chapter 16: NMR Spectroscopy: Hold on to Your Hats, You're Going Nuclear!
Chapter 17: Following the Clues: Solving Problems in NMR.
Part V: The Part of Tens.
Chapter 18: Ten Keys for Surviving Orgo.
Chapter 19: Ten Cool Organic Discoveries.
Chapter 20: Ten Great Organic Chemists.
Part VI: Appendixes.
Appendix A: Working Multistep Synthesis Problems.
Appendix B: Working Reaction Mechanisms.
Appendix C: Glossary.
Index.
See More
Arthur Winter is a graduate of Frostburg State University (located in the mountains of western Maryland), where he received his BS in chemistry. Currently, he is a fourth-year doctoral student in organic chemistry at the University of Maryland in College Park, where his research involves studying extremely short-lived reactive intermediates (<0.000001 second lifetimes) using laser spectroscopy. He likes helping students with their struggles with organic chemistry and is the creator of www.chemhelper.com, an organic chemistry help Web site.
See More