Audel House Wiring, All New 8th Edition
ISBN: 978-0-7645-6956-2
240 pages
September 2004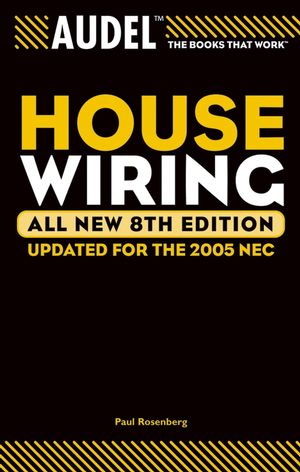 Home wiring is serious business

That's why, especially if you're not an electrician, you need the clear, well-ordered guidance in this book-the same one you may have seen in your father's toolbox. Now fully updated to cover home networking and other 21st century developments, this all-new edition gives you the guidelines, rules, and step-by-step instructions you need to do the job safely and with confidence.
* Understand how to use the National Electrical Code (NEC) and meet its requirements
* Install a safe electrical service entrance and branch circuits
* Use the appropriate cables, wires, conduits, and boxes for your home's needs
* Find specialized information about electric heating, mobile home wiring, and other unique applications
* Learn to install wiring for cable TV, telephones, broadband Internet, home networks, and security systems
* Be able to make accurate load calculations
See More
Foreword.
Chapter 1: Wiring Basics.
Chapter 2: Electrical Services.
Chapter 3: Branch Circuits and Loads.
Chapter 4: Materials and Methods.
Chapter 5: Wiring for Electric House Heating.
Chapter 6: Mobile Homes.
Chapter 7: Cable TV, Broadband, Telephone, and Security.
Chapter 8: How to Wire a House.
Appendix A: Calculations for Dwellings.
Appendix B: Farm Buildings.
Appendix C: Audio and Home Theater Installations.
Appendix D: The Internet as Entertainment.
Index.
See More
Paul Rosenberg
(Chicago, IL) is a leading voice in the electrical industry. A master electrician with extensive experience in the industry as an apprentice, electrician, foreman, superintendent, project manager, purchasing agent, estimator, contractor, supplier, manufacturer's rep., and designer, Paul is often called upon for expert testimony for legal cases involving the electrical industry. He has developed training courses and is the author of many electrical books, including six Audel electrical titles.
 An instructor at Iowa State University, he has written for all the major industry publications and is also the author of Audel Electrical Course for Apprentices & Journeymen, 4th Edition.
See More