Audel Complete Building Construction, All New 5th Edition
ISBN: 978-0-7645-7111-4
720 pages
October 2004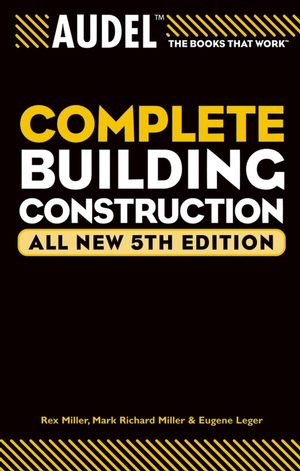 You can build on this foundation

Whether construction is your livelihood or you're just planning a home addition, you need to know the latest about materials, methods, and more. From locating the structure on the site to installing roof shingles, this book helps you make responsible decisions about every stage of building construction. Fully updated with information about available resources, new materials, and recent code changes, it helps you build cost-effective, energy-efficient structures with confidence.
* Understand how different types of lots, covenants, and zoning will affect structure placement
* Consider the Air Freezing Index and Degree Days when planning foundations
* Look at the pros and cons of welded wire fabric in concrete work
* Explore low-E window glass, heat mirror, and switchable glazings
* Find out what insulation and ventilation procedures are most effective
* Learn about the properties of Gypsonite(TM) and FiberBond(TM) in interior construction
* Handle the radon hazard and other environmental issues
See More
Acknowledgments.
About the Authors.
Preface.
Chapter 1: Location of Structure on Site.
Chapter 2: Concrete.
Chapter 3: Foundations.
Chapter 4: Finishing and Curing Concrete.
Chapter 5: Concrete Block.
Chapter 6: Chimneys and Fireplaces.
Chapter 7: Woods Used in Construction.
Chapter 8: Framing Lumber.
Chapter 9: Girders and Engineered Lumber.
Chapter 10: Floor Framing.
Chapter 11: Outer Wall Framing.
Chapter 12: Roof Framing.
Chapter 13: Roofing.
Chapter 14: Cornice Construction.
Chapter 15: Sheathing and Siding.
Chapter 16: Windows.
Chapter 17: Insulation.
Chapter 18: Interior Walls and Ceilings.
Chapter 19: Stairs.
Chapter 20: Flooring.
Chapter 21: Doors.
Chapter 22: Ceramic Tile.
Chapter 23: Attic Ventilation.
Chapter 24: Radon.
Appendix: Reference Materials.
Glossary.
Index.
See More
Rex Miller
was a Professor of Industrial Technology at The State University of New York, College at Buffalo for more than 35 years. He has taught on the technical school, high school, and college level for more than 40 years. He is the author or coauthor of more than 100 textbooks ranging from electronics through carpentry and sheet metal work. He has contributed more than 50 magazine articles over the years to technical publications. He is also the author of seven civil war regimental histories.
Mark Richard Miller finished his B.S. degree in New York and moved on to Ball State University, where he obtained the Masters degree. He went to work in San Antonio. He taught high school and went to graduate school in College Station, Texas, where he finished the Doctorate. He took a position at Texas A&M University in Kingsville, Texas, where he now teaches in the Industrial Technology Department as a Professor and Department Chairman. He has coauthored 19 books and contributed many articles to technical magazines. His hobbies include refinishing a 1970 Plymouth Super Bird and a 1971 Road-Runner.
Eugene Leger is a long-time professional tradesman who specialized in building design and construction methods.
See More
More in this series