Audel Carpenter's and Builder's Math, Plans, and Specifications, All New 7th Edition
ISBN: 978-0-7645-7113-8
384 pages
November 2004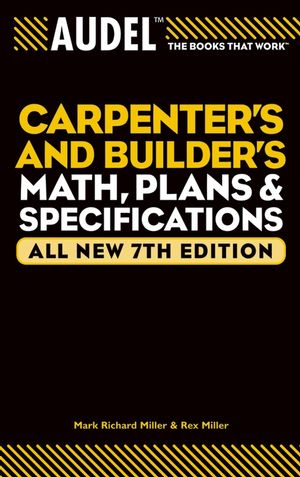 You can count on a good plan

A successful building or remodeling job requires not only a plan, but also the skill to interpret it and an understanding of the mathematics behind it. Whether you are a builder by trade or a do-it-yourself carpenter by choice, turn to this newly updated guide for easy explanations of the math involved and clear instructions on developing and using the necessary plans and specifications.
* Explore the different types of wood products and learn what is best for your purpose
* Choose appropriate building materials for weather and other natural factors
* Refresh your knowledge of fractions, ratios, geometry, and measurement
* Understand how to use basic surveying tools
* Become familiar with the design process and recognize various styles of architecture
* Learn to read architectural drawings and work with computer design
See More
Acknowledgments.
About the Authors.
Introduction.
Chapter 1: Nails, Screws, Bolts, and Other Fasteners.
Chapter 2: Wood as a Building Material.
Chapter 3: Lumber, Plywood, and Other Wood Products.
Chapter 4: Strength of Timbers.
Chapter 5: Mathematics for Carpenters and Builders.
Chapter 6: Surveying.
Chapter 7: The Design Process.
Chapter 8: Building Specifications.
Chapter 9: Architectural Drawings.
Chapter 10: Building Styles Explored.
Appendix: Construction Hardware.
Index.
See More
Mark Richard Miller
finished his BS degree in New York and moved on to Ball State University, where he obtained the Master's degree. He went to work in San Antonio. He taught high school and went to graduate school in College Station, Texas, finishing the Doctorate. He took a position at Texas A&M University in Kingsville, Texas where he now teaches in the Industrial Technology Department as a Professor and Department Chairman. He has co-authored 11 books and contributed many articles to technical magazines. His hobbies include refinishing a 1970 Plymouth Super Bird and a 1971 Road-Runner.
Rex Miller was a Professor of Industrial Technology at The State University of New York, College at Buffalo for more than 35 years. He has taught at the technical school, high school, and college level for more than 40 years. He is the author or co-author of more than 100 textbooks ranging from electronics through carpentry and sheet metal work. He has contributed more than 50 magazine articles over the years to technical publications. He is also the author of seven civil war regimental histories.
See More
More in this series

Learn more about