Audel Refrigeration Home and Commercial, All New 5th Edition
ISBN: 978-0-7645-7117-6
768 pages
October 2004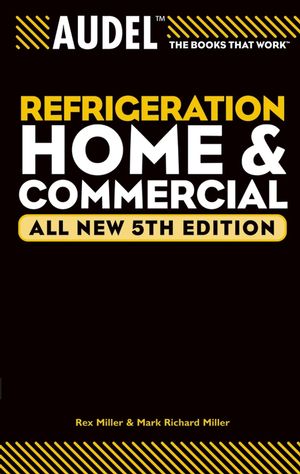 Know how to put a chill in the air

Here at last is a reference manual devoted exclusively to refrigeration, both home and commercial. Beginning with the essential physics and math, it provides a complete course in maintaining, troubleshooting, and repairing both new and vintage refrigeration systems for home and light industry. You'll find the answers you need, whether you're a student, apprentice, cost-conscious homeowner, or skilled technician.
* Know how different types of refrigerants are used and how to handle them safely
* Perform routine maintenance on various types of compressors
* Test for leakage and resolve common problems such as freeze-ups
* Repair and replace refrigerator cabinet parts
* Troubleshoot common problems with home freezers
* Understand the working parts of both electrically driven and absorption-type refrigeration units
* Learn to troubleshoot and maintain the wide variety of motors used in cooling devices
* Service and repair automatic icemakers, water coolers, and display cases
See More
Acknowledgments.
About the Author.
Introduction.
Chapter 1. Applications of Refrigeration.
Chapter 2. Refrigerants.
Chapter 3. Compressors.
Chapter 4. Domestic Refrigeration.
Chapter 5. Absorption System for Domestic Refrigeration.
Chapter 6. Thermoelectric Cooling.
Chapter 7. Refrigeration Service Equipment and Tools.
Chapter 8. Domestic Refrigeration Operation and Service.
Chapter 9. Household-Cabinet Defrosting Systems.
Chapter 10. Cabinet Maintenance and Repairs. 
Chapter 11. Household Freezers.
Chapter 12. Styles of Domestic Refrigerators and Food Arrangement.
Chapter 13. Installation Methods.
Chapter 14. Compressor Lubrication System
Chapter 15. Refrigeration Control Devices.
Chapter 16. The Electrical System.
Chapter 17. Commercial Refrigeration Principles.
Chapter 18. Brine Systems.
Chapter 19. Ice-Making Systems.
Chapter 20. Supermarket and Grocery Refrigeration.
Chapter 21. Locker Plants.
Chapter 22. Special Refrigeration Applications.
Chapter 23. Cold-Storage Practice.
Chapter 24. Fans and Blowers.
Chapter 25. Refrigeration Piping.
Chapter 26. Commercial Absorption Systems.
Chapter 27. Circulating Pumps.
Chapter 28. Installation and Operation.
Chapter 29. Heat Leakage through Walls.
Chapter 30. Refrigeration Load Calculations.
Appendix A. Reference Materials.
Glossary.
Index.
See More
Rex Miller
was a Professor of Industrial Technology at The State University of New York, College at Buffalo for more than 35 years. He has taught on the technical school, high school, and college level for more than 40 years. He is the author or coauthor of more than 100 textbooks ranging from electronics through carpentry and sheet metal work. He has contributed more than 50 magazine articles over the years to technical publications. He is also the author of seven civil war regimental histories.
Mark Richard Miller finished his B.S. degree in New York and moved on to Ball State University, where he obtained the Master's degree. He went to work in San Antonio. He taught high school and went to graduate school in College Station, Texas, where he finished the Doctorate. He took a position at Texas A&M University in Kingsville, Texas, where he now teaches in the Industrial Technology Department as a Professor and Department Chairman. He has coauthored 11 books and contributed many articles to technical magazines. His hobbies include refinishing a 1970 Plymouth Super Bird and a 1971 Road-Runner.
Edwin P. Anderson was a professional engineer and the author of numerous books for the trades, including air conditioning, sheet metal, home appliance, and electrical.
See More
More in this series