Low-Cholesterol Cookbook For Dummies
ISBN: 978-0-7645-7160-2
384 pages
November 2004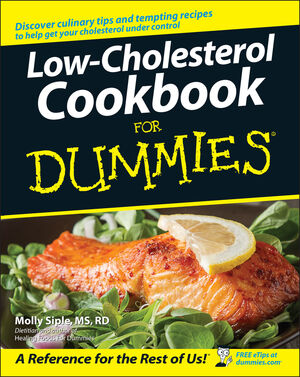 Cook and eat your way to a healthier heart!

Now you really can eat to your heart's content with this easy cookbook and guide. From breakfasts to dinners, from super starters to "legal" desserts, you'll find a mouthwatering assortment of tasty and satisfying low-cholesterol recipes you -- and your family and friends -- will love. With advice on choosing the right foods, low-cholesterol cooking techniques, and more, this book helps make heart-healthy eating a snap.

Discover how to
* Shop for the best food and ingredients for low-cholesterol cooking
* Adapt your favorite recipes to fit your needs
* Make heart-smart choices from restaurant and takeout menus
* Tell the difference between "good" foods and "bad" foods
See More
Introduction.
Part I: Starting Out Right to Control Your Cholesterol.
Chapter 1: Conquering Cholesterol Is Easier (and More Pleasant) Than You Think.
Chapter 2: Favorite Foods for Controlling Cholesterol.
Chapter 3: Looking at Those Foods You've Been Warned About.
Chapter 4: Controlling Cholesterol When Eating Out.
Chapter 5: Gearing Up for Healthy Cooking.
Part II: Mastering the Beneficial Breakfast.
Chapter 6: Greeting the Morning with Healthy Carbs.
Chapter 7: Starting Your Day with Protein.
Chapter 8: Having Breakfast in a Jiffy.
Part III: Making Your Day with Heart-Healthy Starters.
Chapter 9: Preparing Soup, Simple and Hearty.
Chapter 10: Super Salads for Everyday Meals.
Chapter 11: Mouth-Watering Morsels for Special Occasions.
Part IV: Having Your Poultry, Fish, and Meat.
Chapter 12: Flocking to Chicken and Turkey: New Ways to Prepare Old Favorites.
Chapter 13: Serving Up Great-Tasting Seafood.
Chapter 14: Managing Meats in a Healthy Diet.
Part V: A Harvest of Cholesterol-Controlling Veggies, Beans, and Grains.
Chapter 15: Welcoming Heart-Friendly Veggies into Your Kitchen.
Chapter 16: Betting on Beans and Other Legumes for Lower Cholesterol.
Chapter 17: Quality Grains for Your Heart's Sake.
Part VI: Savory Accompaniments and Sweet Finishes.
Chapter 18: Sparking Flavors with Seasonings and Sauces.
Chapter 19: Dishing Up Fruit for Dessert.
Chapter 20: Baked Goods that Keep the Heart Ticking.
Part VII: The Part of Tens.
Chapter 21: Ten Beverages That Say, "Here's to Your Health!".
Chapter 22: Ten Ways to Trim Your Food Bill.
Appendix: Metric Conversion Guide.
Index.
See More
Molly Siple, MS, RD, is also the author of Healing Foods For Dummies. She writes a nutrition column that appears in Natural Health magazine and she has taught nutrition at the Southern California School of Culinary Arts in Pasadena, California.
She is the coauthor, with Lissa DeAngelis, of Recipes for Change, which was a finalist nominee for the International Association of Culinary Professionals' Julia Child Cookbook Awards in the Health and Special Diet category. Ms. Siple also founded a successful catering business in New York City.
See More