Baseball For Dummies, 3rd Edition
ISBN: 978-0-7645-7537-2
460 pages
January 2005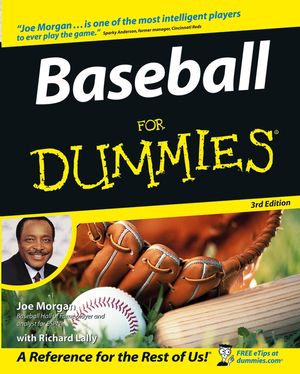 "Joe Morgan again shows himself a rare bird: an ex-jock with savvy and the ability to communicate it."
—People
"This book has something for everybody, from longtime fans to Little Leaguers."
—New York Newsday
Baseball For Dummies, Third Edition, is for baseball fans at all levels, from players and coaches to spectators who love the game. Baseball Hall of Fame player and ESPN baseball analyst Joe Morgan explains baseball with remarkable insight, using down-to-earth language so everyone from the casual observer to the die-hard fan can gain a fuller appreciation of the sport. This updated edition features:
Everything you need to know about the game, from what it takes to play each position and how to hit and run the bases to what to watch for in the game and how to appreciate the finer points of the sport
Coverage of new star players, new stadiums, and game milestones
The lowdown on today's baseball Web resources
The latest on stats and sabermetrics
The inside story on the new steroid rules
From how to throw a knuckleball or hit an inside pitch to how to keep a scorecard or pick a winning fantasy league team, Morgan covers all the bases, showing you how to get the most out of the game. You'll see how to:
Improve your hitting, pitching, and fielding
Find a team to play on, from Little League on up
Evaluate stats, players, and records
Coach or umpire effectively
Get more out of a trip to the ballpark
Complete with Morgan's personal lists of top-ten pitchers, fielders, and relievers, as well as new quotes from Derek Jeter and Keith Hernandez, Baseball For Dummies gives you all the inside tips, facts, and stats so you can play like a Major Leaguer!
See More
Foreword.
Introduction.
Part I: Getting Started (Before Your First At-Bat).
Chapter 1: What Is Baseball?
Chapter 2: Suiting Up: Equipment.
Chapter 3: The Rules of the Game.
Part II: Taking Your Swings: How to Play the Game.
Chapter 4: Training: Getting into Baseball Shape.
Chapter 5: Swinging the Lumber: Hitting Like a Major Leaguer.
Chapter 6: Winning the Arms Race: Pitching Like a Major Leaguer.
Chapter 7: The Third Dimension: Defense.
Chapter 8: The Science of Baserunning.
Chapter 9: Joe's Baseball Playbook.
Part III: From Little League to the Major Leagues: Organized Baseball.
Chapter 10: T-Ball to College Baseball and Everything in Between.
Chapter 11: The Minors and Other Leagues.
Chapter 12: There Are Tricks to This Game: Coaching.
Chapter 13: Men in Blue: Umpiring Like a Professional.
Chapter 14: Major-League Baseball.
Chapter 15: Off-the-Field Baseball Jobs and How to Snag Them.
Chapter 16: Measuring Performance: Calculating Baseball's Statistics.
Chapter 17: Going All the Way: Postseason Play and the World Series.
Part IV: We Don't Care if We Ever Get Back: A Spectator's Guide.
Chapter 18: Following the Bouncing Baseball.
Chapter 19: Keeping Up with the Show: Baseball Online, on the Air, and on the Newsstand.
Chapter 20: Fantasy Baseball.
Part V: The Part of Tens.
Chapter 21: Joe Morgan's Top Ten Current Players and His All-Time All-Star Team.
Chapter 22: Joe Morgan's Top Ten Current Pitchers.
Chapter 23: Joe Morgan's Top Ten Current Fielders.
Chapter 24: Joe Morgan's Top Ten Current Relievers.
Chapter 25: Joe Morgan's Ten Negro League Legends.
Chapter 26: Ten Things to Love about Baseball.
Chapter 27: Ten Baseball Nicknames That Hit the Mark.
Chapter 28: Joe Morgan's Top Ten Future Stars.
Part VI: Appendixes.
Appendix A: Baseball Speak: A Glossary.
Appendix B: Baseball Organizations.
Index.
See More
Joe Morgan played on two Cincinnati Reds World Series championship teams; he is now a baseball analyst for ESPN's Sunday Night Baseball.
Richard Lally is a prolific sportswriter and author.
See More
Buy Both and Save 25%!
Baseball For Dummies, 3rd Edition (US $19.99)
-and- Coaching Baseball For Dummies (US $19.99)
Total List Price: US $39.98
Discounted Price: US $29.98 (Save: US $10.00)
Cannot be combined with any other offers. Learn more.