WindowsXP Digital Music For Dummies
ISBN: 978-0-7645-7599-0
308 pages
November 2004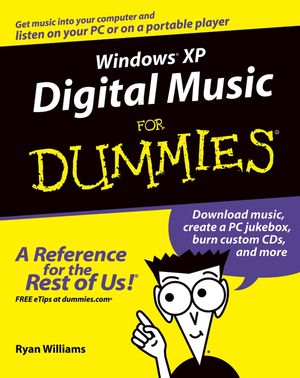 Now you can give new meaning to the description "High-performance computer!" And you can even choose the performers—Elvis or Elton, the Beatles or Beethoven, Eminem or Englebert, Pfish or Pavarotti. Your Windows XP is like a concert hall, and
Windows XP Digital Music For Dummies
is just the ticket to get you in and get you enjoying digital music. It will help you get in tune with the times with note-by-note information on:
Setting up your computer to handle music
Using Windows Media Player that's part of the XP package
Making your computer the centerpiece of your music collection
Shopping for and downloading music from Napster, iTunes, Rhapsody, and more internet sites
Selecting the hardware, software, and audio tools you need
Written by Ryan Williams, an accomplished musician with an MS in Music Technology who develops digital multimedia tools, this guide helps you explore:
Transferring your CDs or even vinyl records (if you have them, you know what they are) to the realm of your computer
Choosing and using portable audio players
Upgrading your PC and turning it into a jukebox with your all-time favorite hits
Organizing and burning your music to disc for use in other types of devices, like traditional CD or DVD players
Souping up your computer and making it a virtual studio
Laying down basic tracks and mixing them
Taking the finished product to disk, the Internet, and elsewhere
Hear what you've been missing. With Windows XP Digital Music For Dummies, you and your Windows XP can make beautiful (or raucous, harmonious, hip-hop, rousing, jazzy, inspiring—whatever your taste) digital music together!
See More
Introduction.
Part I: Playing Music on Windows XP.
Chapter 1: Are You XPerienced?
Chapter 2: Wiring Your Computer for Sound.
Chapter 3: Basic Operations.
Chapter 4: Windows XP Media Center Edition.
Part II: Making Windows XP Your Digital Jukebox.
Chapter 5: Stalking the Wild Jukebox Software.
Chapter 6: Ripping Music Files from CDs, DVDs, and More.
Chapter 7: Buying Songs at the 99-Cent Store.
Chapter 8: Radio Station WNXP.
Part III: Goin' Mobile: Taking Your Songs on the Road.
Chapter 9: Choosing an Okay Player.
Chapter 10: Feed Me, Seymour! Transferring Songs to Your Portable Audio Player.
Part IV: Quiet in the Studio.
Chapter 11: Building Your Studio.
Chapter 12: Laying Down a Few Tracks.
Chapter 13: Recording, Looping, and Editing.
Chapter 14: Mixing the Music.
Chapter 15: Finishing Up Your Song.
Part V: The Part of Tens.
Chapter 16: Ten Valuable Ways to Tune-Up Your Digital Music.
Chapter 17: Ten Legal Download Sites.
Chapter 18: Ten Download-Friendly Artists.
Chapter 19: Ten Songs You'll Never Want to Download.
Chapter 20: Ten Digital Music Toys for the Truly Geeky.
Chapter 21: Ten non–Windows XP Sources for Digital Music.
Chapter 22: Ten Other Ways You Can Use Windows XP for Music.
Appendix A: Glossary.
Appendix B: Cutting the Wires to Your Music.
Index.
See More
Ryan Williams is the Digital Multimedia Development Specialist for the Indiana University School of Dentistry. He graduated from the Indiana University School of Music with a master's degree in music technology, along with a bachelor's degree in communications from DePauw University. In addition, he writes for indianapolismusic.net, a Web site focused on the musical happenings in and around the greater Indianapolis metropolitan area.
As a bassist, Ryan has played in most known genres of music and some additional ones that seemed invented on the spot. While he was named "Best Bassist In Indianapolis" by shotgunreviews.com in 2002, he will happily provide you with the names of several local musicians who both inspire and embarrass him on a regular basis. He currently shares stages and studios with the members of Mother Grove, a Celtic rock band featured in shows and festivals from Ohio to Colorado.
See More