E-book
Sony CLIÉ For Dummies
ISBN: 978-0-7645-7632-4
377 pages
June 2004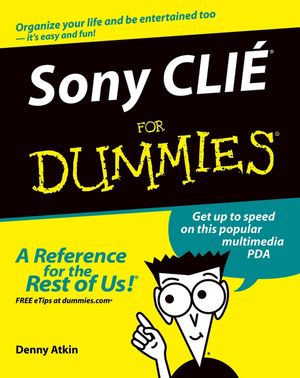 Shows users how to make the most of Sony's popular Palm OS PDA, the CLIE
Sony holds the second largest share of the U.S. PDA market-12.1 percent
Guides new and intermediate users through the all the latest CLIE features and functions, from using Graffiti and working with Microsoft Office and PDF files to scheduling appointments, checking e-mail, and beaming data
Covers cool multimedia features such as taking digital photos, producing slide shows, recording and watching movies, transferring music, and creating reminders using the built-in voice recorder
Written in a friendly, accessible style by PDA guru Denny Atkin, Editorial Director of Handheld Computing magazine
See More
Introduction.
Part I: Getting to Know Your CLIÉ.
Chapter 1: It's CLIÉ but Not Cliché.
Chapter 2: Communicating with Your CLIÉ.
Chapter 3: All That and the Kitchen (Hot)Sync.
Part II: Getting Organized.
Chapter 4: Getting Street Smart with Address Book.
Chapter 5: An Appointment with the Date Book.
Chapter 6: So Much To Do.
Chapter 7: Notes from a Small PDA: Memo Pad, CLIÉ Memo, and Free Notes.
Part III: Multimedia and Entertainment.
Chapter 8: Picturing the World with Your CLIÉ.
Chapter 9: Hollywood on the Go.
Chapter 10: Audio Excellence: Music and Voice Recording.
Chapter 11: Games, Books, and More!
Part IV: An Office in Your Pocket.
Chapter 12: Office on the Go.
Chapter 13: Other Office Applications.
Part V: Reaching Outside the CLIÉ Box.
Chapter 14: All about Memory.
Chapter 15: The CLIÉ Goes Wireless.
Chapter 16: Internet on the Go.
Chapter 17: CLIÉ, the Ultimate Travel Companion.
Part VI: Securing and Protecting Your CLIÉ.
Chapter 18: Protect Your CLIÉ's Data.
Chapter 19: Backups: As Vital to Your Day as a Good Breakfast.
Chapter 20: Power Struggle: Getting the Most from Your CLIÉ's Battery.
Chapter 21: Caring for Your CLIÉ.
Part VII: The Part of Tens.
Chapter 22: Ten Great Third-Party Programs.
Chapter 23: Ten Great CLIÉ Add-Ons.
Chapter 24: Ten Top Tips and Secrets.
Chapter 25: Way More Than Ten Useful Internet Resources.
Index.
See More
Denny Atkin has been writing about technology since 1987, a primitive age where pioneer computer users toyed with Atari 800s and Commodore Amigas and actually typed in programs printed in magazines instead of downloading them. His articles have appeared in a variety of magazines ranging from pioneering technology/science publications Compute! and OMNI to Wired, Entertainment Weekly, Computer Gaming World, Computer Shopper, and Handheld Computing magazine. He has written a number of books, such as the one you're holding, and has appeared on Tech TV and CNN.
He's been using handhelds since the days of the original Apple "I don't understand what you're trying to write" Newton. He practices what he preaches, typically traveling with a CLIÉ, a folding keyboard, and a Bluetooth cell phone instead of a bulky laptop.
Atkin lives with his wife and son in Vermont, where he's doing long-term tests of the CLIÉ's ability to operate during ridiculously lengthy periods of sub-zero temperatures.
See More