Debian GNU / Linux 3.1 Bible
ISBN: 978-0-7645-7644-7
672 pages
August 2005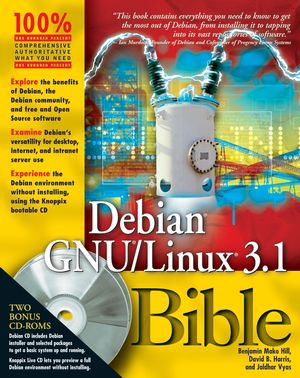 Comprehensive, beginning-to-advanced coverage of Debian GNU/Linux, which boasts an estimated installed base of 1.75 million servers and a year-to-year growth rate of 25 percent
Debian GNU/Linux is free, supported by HP, and is often cited as the most stable and reliable Linux distribution-which makes it a great alternative for users put off by Red Hat's pricey Enterprise Linux and unsupported Fedora
Written by an active and widely recognized member of the Debian community and featuring a foreword by the Debian Project Leader
Features the basic distribution on one CD-ROM as well as a mini disk that allows users to explore Debian GNU/Linux without actually installing it
See More
Preface.
Acknowledgments.
Part I: The Fundamentals.
Chapter 1: The Debian Project.
Chapter 2: Installing Debian.
Chapter 3: Using the Shell and Filesystem.
Chapter 4: Software Management.
Chapter 5: Basic System Administration.
Chapter 6: Performing Backups.
Part II: The Linux Desktop.
Chapter 7: Configuring Graphics and Sound.
Chapter 8: The KDE and GNOME Desktop Environments.
Chapter 9: Internet Applications.
Chapter 10: Publishing.
Chapter 11: Digital Photography and Multimedia.
Chapter 12: Games.
Part III: The Internet Server.
Chapter 13: Network Security.
Chapter 14: E-Mail Servers.
Chapter 15: Web Serving.
Chapter 16: File Transfer Services.
Chapter 17: The Domain Name System.
Chapter 18: Remote Access.
Part IV: The Intranet Server.
Chapter 19: Workstation Network and Internet Access.
Chapter 20: File Serving and Sharing.
Chapter 21: OpenLDAP.
Chapter 22: Intranet E-Mail Servers.
Chapter 23: Printing Services.
Chapter 24: Database Servers.
Part V: The Developer.
Chapter 25: The Debian Community.
Chapter 26: Building Packages.
Chapter 27: Debian Archives.
Appendix A: What's on the CD-ROMs?
Appendix B: Debian Constitution.
Index.
See More
Benjamin Mako Hill
is an intellectual property researcher and activist and a professional Free/Open Source Software (FOSS) advocate, developer, and consultant. He is an active participant in the Debian Project in both technical and nontechnical roles, and is a founder of Debian-Nonprofit and several other Free Software projects. He is the author of the
Free Software Project Management HOWTO
and many published works on Free and Open Source Software in addition to academic and nonacademic work in both technical and nontechnical fields. He is currently working full time for Canonical Ltd. on Ubuntu, a Debian-based distribution.
David B. Harris is a professional systems administrator who works with Debian systems daily. He is an active and recognized member of the Debian community, where he maintains a number of Debian components. David also serves as the point of first contact for numerous Debian users and developers, and is known for providing excellent personalized technical support. Aside from Debian, he manages all the technical aspects of the Open and Free Technology Community, a group formed early in 2000 to provide services to Open Source projects.
Jaldhar Vyas is a 34-year-old Hindu priest and consultant specializing in Perl and Linux who lives in Jersey City, New Jersey, with his wife Jyoti, daughter Shailaja, and son Nilagriva. Jaldhar has been a Debian developer for eight years and a Linux user for 10. His current major area of interest is Debian-IN, subproject to improve Debian's support of Indian-language speakers.
See More