E-book
Audel Guide to the 2005 National Electrical Code, All New Edition
ISBN: 978-0-7645-7903-5
840 pages
February 2005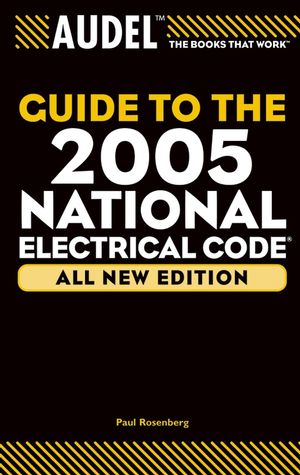 Here's what you need to know

Understanding and following the voluminous National Electrical Code is a constant challenge. You need a reference that doesn't waste your time. This guide extracts the information necessary for you, the installer, then arranges it for easy access and highlights the changes so you can quickly spot what's new. Whether you're a novice or a veteran, you'll want this book with you on every job.
* Understand the terms and rules for installation set forth in the NEC
* Identify what's new in the 2005 version
* Review each section of the NEC that applies to electrical installation
* Find summary information on the new model ordinances
* Learn about the significant changes in bonding and grounding requirements
* Explore the expanded section covering communications equipment
* Comprehend the new definitions and be able to use them in interpreting Code requirements
See More
Foreword.
Introduction.
Chapter 1. General.
Chapter 2. Wiring and Protection.
Chapter 3. Wiring Methods and Materials.
Chapter 4. Equipment for General Use.
Chapter 5. Special Occupancies.
Chapter 6. Special Equipment.
Chapter 7. Special Conditions.
Chapter 8. Communications Systems.
Chapter 9. Tables and Examples.
Index.
See More
Paul Rosenberg is a leading voice in the electrical industry. A master electrician, he is an instructor at Iowa State University and has written for all major industry publications. He is the author of several Audel electrical guides, including Audel Electrician's Pocket Manual, 2nd Edition.
See More
More in this series