Nostradamus For Dummies
ISBN: 978-0-7645-8412-1
384 pages
May 2005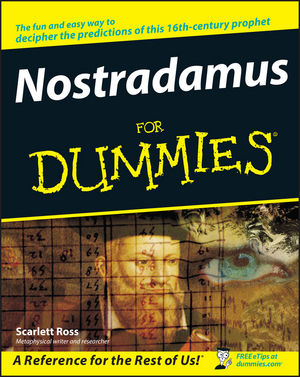 Nostradamus made simple-a surefire prophecy of success!
Michel Notredame, or Nostradamus (1503-1566), was a French physician, astrologer, and prophet whose books of visionary four-line verses have intrigued and beguiled readers for hundreds of years. Now, with this fun and easy guide, everyone can finally get a handle on Nostradamus and his "Centuries" of prophecies, which many people believe to have predicted the French Revolution, the rise of Hitler, the Kennedy assassination, and 9/11, among other events. The book covers Nostradamus's life and beliefs, his use of cryptic language and anagrams, interpretations of his work that link it to specific historical incidents, and critics who are skeptical of his prophecies. It also explores the implications of his work on the past, present, and future, and much more!
See More
Introduction.
Part I: Nostradamus, This Is Your Life!
Chapter 1: The Stuff Legends Are Made Of.
Chapter 2: Winds of Change: Renaissance Life.
Chapter 3: The Man Behind the Legend.
Part II: The Big Influences on Nostradamus.
Chapter 4: People, Events, and Institutions that Shaped Nostradamus's Prophecies.
Chapter 5: The Motivations and Methods of Nostradamus.
Chapter 6: Peeling Back the Layers of the Prophecies.
Part III: The Prophecies From Nostradamus's Time to Napoleon.
Chapter 7: Predictions that Created a Legendary Beginning.
Chapter 8: Foreseeing Royally Good (and Dangerous) Times.
Chapter 9: Royal Betrayal and the French Revolution.
Chapter 10: Suffering from a Napoleon Complex.
Part IV: The Prophecies of the Modern Era.
Chapter 11: Revealing Times of War.
Chapter 12: Focusing on Hitler and World War II.
Chapter 13: Telling the Tales of the Three Antichrists.
Chapter 14: Taking a Technological Tour.
Chapter 15: Playing Politics: People and Events of the 20th Century.
Chapter 16: Looking at Events in the New Millennium.
Part V: The Prophecies of a Future Era.
Chapter 17: The Future of Religion and the Family.
Chapter 18: Foreseeing Disasters in Our Future.
Chapter 19: Looking Toward the Age of Aquarius.
Part VI: The Part of Tens.
Chapter 20: Ten Insights into the Life and Mind of Nostradamus.
Chapter 21: Ten Tips for Exploring The Prophecies on Your Own.
Chapter 22: Ten Tips on Finding Quality Resources.
Appendix: A Brief Chronology of Nostradamus's Life and Times.
Index.
See More
Scarlett Ross is a metaphysical writer and English teacher who has spent more than 18 years researching and lecturing on the New Age movement, alternative religions, divination, prophecy, symbols, dreams, and language.
See More