Cooking For Crowds For Dummies
ISBN: 978-0-7645-8469-5
354 pages
June 2005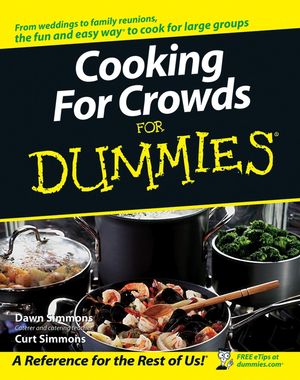 Over 100 recipes, plus time-saving planning tips and sanity-saving suggestions
Serve terrific food confidently and calmly, and wow your crowd!
Panicky about cooking for a casual church dinner, a posh graduation party, or a holiday feast for 50? With terrific recipes plus tips for everything from planning menus to preparation and presentation, you can serve a hungry crowd without getting all steamed up about it. You'll quickly grasp the basics you need to know to cook like an experienced pro.
Discover how to
Serve great dishes, from appetizers through desserts
Determine food quantities when cooking for groups
Handle food safely
Add ambience with easy decorations
See More
Introduction 1
Part I: So, You Need to Cook for a Crowd . . . 7
Chapter 1: A Crowd by Any Other Name 9
Chapter 2: Planning Your Menu 17
Chapter 3: Estimating Food Quantities, Serving Dishes, and More 39
Part II: Tried-and-True Recipes for Crowds 51
Chapter 4: Creating Tasty Appetizers 53
Chapter 5: Main Dishes Everyone Will Love 69
Chapter 6: Delicious Side Dishes 95
Chapter 7: Satisfying Slurps: Soups and Stews 109
Chapter 8: Stirring It Up: Punches and Drinks 125
Chapter 9: Decadent Desserts 137
Part III: Special Events and Holidays 163
Chapter 10: Special Dishes for Summer Get-Togethers 165
Chapter 11: Special Dishes for Holidays 183
Chapter 12: Special Dishes for Weddings 201
Part IV: Bringing It All Together 215
Chapter 13: Getting Ready for the Event 217
Chapter 14: Getting Ready on the Day of the Event 231
Part V: The Part of Tens 247
Chapter 15: Ten Ways to Avoid Common Food Preparation Problems 249
Chapter 16: More Than Ten Decorating Tips for Crowds 253
Chapter 17: Ten Ways to Keep from Pulling Out Your Hair 265
Chapter 18: More Than Ten Things You Need to Know about Food Safety 269
Appendix A: Metric Conversion Guide 277
Appendix B: Helpful Web Sites 281
Appendix C: Fun and Easy Garnishes 293
Appendix D: Special Cooking Tricks 309
Index 313
See More
Dawn Simmons
is a professional caterer and teaches online catering courses.
Curt Simmons is the author of more than 50 books, including iPhoto For Dummies.
See More