Two-Way Radios and Scanners For Dummies
ISBN: 978-0-7645-9582-0
384 pages
July 2005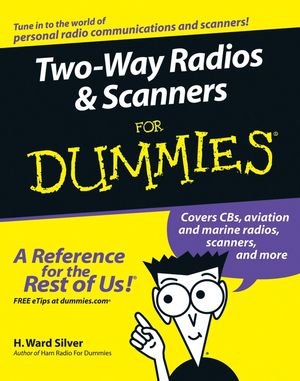 Discover a fun new hobby with helpful possibilities

Get directions, talk to folks overseas, or find out whether the fish are biting

Want to check out the morning news in London, help out in emergencies, or tune in to the big race? Two-way radios open up a world of possibilities - literally. This handy guide tells you about the equipment you need, fills you in on radio etiquette, shows you how to stay legal, and gives you lots of cool ideas for family-friendly radio activities.

Discover how to
* Use the right radio lingo
* Choose and operate different types of radios
* Get a license if you need one
* Communicate in emergencies
* Program a scanner
* Tune in to sporting events
See More
Introduction.
Part I: Making Radio a Habit, a Hobby, or a Helper.
Chapter 1: Introducing Radios and the Wireless World.
Chapter 2: Discovering the Art and Science of Radio.
Chapter 3: Making Radio Fit Your Life.
Part II: Two-Way Radios at Home, Work, and Play.
Chapter 4: A Radio in Your Pocket: FRS/GMRS Radios.
Chapter 5: Breaker, Breaker: Using Citizens Band.
Chapter 6: Communicating in Emergencies.
Chapter 7: Workaday Wireless: Business Radio Services.
Chapter 8: Ladies and Gentlemen, Ships at Sea: Marine Radio.
Chapter 9: Citizen Wireless: Amateur Radio.
Part III: Listening In: Scanning and Shortwave Listening.
Chapter 10: One Adam 12: Scanner Basics.
Chapter 11: Scanning Public Service and Safety Radio Transmissions.
Chapter 12: Radio Aloft: Aviation Radio Transmissions.
Chapter 13: Radios in Uniform: Government Radio Transmissions.
Chapter 14: Radio in Action: Recreational Radio Transmissions.
Chapter 15: Surfing the Air World: Shortwave Listening.
Part IV: Getting Technical with Your Radio.
Chapter 16: Building Your Radio Toolbox.
Chapter 17: A Spark of Electronic Know-How.
Chapter 18: Installing Radios Right.
Chapter 19: Getting a Charge Out of Batteries.
Chapter 20: Putting Your Computer to Work.
Chapter 21: Troubleshooting Your Radio.
Part V: The Part of Tens.
Chapter 22: Ten Radio Secrets.
Chapter 23: Ten Emergency Tips.
Chapter 24: Ten Radio First-Aid Techniques.
Chapter 25: Ten New Ways to Have Fun with Your Radio.
Appendix: Glossary.
Index.
See More
H. Ward Silver has experienced a 20-year career as an electrical engineer developing instrumentation and medical electronics. He also spent 8 years in broadcasting, both programming and engineering. In 2000, he turned to teaching and writing as a second career, producing Ham Radios For Dummies in 2004. He supports Seattle University's Electrical and Computer Engineering Department in laboratory instruction. He is an avid Amateur Radio operator, Extra Class, first licensed in 1972. Each month, his columns and articles can be found in the national ham radio magazine, QST, published by the American Radio Relay League (ARRL). He is the author of the ARRL's online courses in Antenna Design and Construction, Analog Electronics, and Digital Electronics. When not in front of a computer screen, you will find him working on his mandolin technique and compositions.
See More