Dreamweaver 8 For Dummies
ISBN: 978-0-7645-9649-0
456 pages
October 2005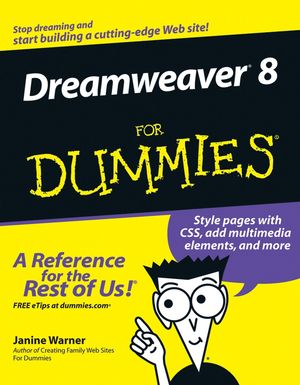 Ever visited a knockout Web site and wondered, "How did they do that?" Wonder no more. Odds are, they did it with Dreamweaver. Completely updated to give you the scoop on all the cool new tools in the latest version
, Dreamweaver 8 For Dummies
will have you designing dynamite Web sites in no time. In fact, by Chapter 2 you'll dive right into setting up your Web site, creating your first Web page, and adding text images and links. This guide starts with basic Web page design features and progresses to the more advanced options for DHTML and database-driven sites, with step-by-step instructions for every function plus lots of screen shots. It walks you though:
A tour of the desktop, covering the toolbars, menu options, the Insert bar, the Document window, the Properties inspector, the Vertical Docking panels, and more
Popular features such as sophisticated template capabilities and Library items Tracing images, the Quick Tag Editor, Design Notes, and the History palette
Making the most of Dreamweaver's site management features, including a Testing Server, the Check IN/Out feature, integrated e-mail, Design Notes, Site Map Layout and more
Using HTML tables to create page layouts
14 different benefits of using Cascading Style Sheets (CSS) and how to capitalize on them
Dreamweaver 8 For Dummies includes tips to save you time and money so you can create a Web site that makes a big impression without spending big bucks. Whether you're a beginner who wants to get started or an experienced pro who wants to enhance your skills…whether you want something simple like a site to promote a quaint bed & breakfast or something wild to catapult your rock band to the big time, Dreamweaver gives you the tools and this guide helps you make the most of them. When you're ready to tackle more complex sites, it covers:
Using Fireworks with Dreamweaver to automate your workflow, optimize graphics for Web use, and create sophisticated animations, fancy rollovers, and special effects
Showing off with multimedia: creating Flash buttons and text; adding Flash movie files; working with sound and video files; getting familiar with Java and ActiveX control
Integrating forms into dynamic, interactive sites and creating shopping cart systems, guest books, contact forms, search engines, chat rooms, and more
Building a simple database-driven site
E-commerce basics
With Dreamweaver, you don't have to be a techie to design and create a terrific Web site. So get this book and get started!
See More
Introduction.
Part I: Fulfilling Your Dreams.
Chapter 1: Introducing Your New Best Friend.
Chapter 2: Setting Up a Web Site with Dreamweaver.
Part II: Looking Like a Million (Even on a Budget).
Chapter 3: Planning and Maintaining a Web Site.
Chapter 4: Coordinating Your Design Work.
Chapter 5: Adding Graphics.
Part III: Advancing Your Site.
Chapter 6: Coming to the HTML Table.
Chapter 7: Framing Your Pages.
Chapter 8: Cascading Style Sheets.
Part IV: Making It Cool.
Chapter 9: Advanced HTML: CSS Layouts, DHTML, and Behaviors.
Chapter 10: Roundtrip Integration: Fireworks and Dreamweaver.
Chapter 11: Showing Off with Multimedia.
Chapter 12: Forms Follow Function.
Part V: Working with Dynamic Content.
Chapter 13: Building a Dynamic Web Site: Getting Started.
Chapter 14: Bringing Data into the Mix.
Chapter 15: Using Forms to Manage Your Dynamic Web Site.
Part VI: The Part of Tens.
Chapter 16: Ten Great Sites Designed with Dreamweaver.
Chapter 17: Ten Web Site Ideas You Can Use.
Chapter 18: Ten Timesaving Dreamweaver Tips.
Index.
See More
Janine Warner is an author, speaker, journalist, Internet consultant, and Multimedia Program Manager at The University of Southern California School for Communication. She has written 10 books about the Internet, including all editions of Dreamweaver For Dummies.
See More